Starring: Ana de la Reguera (Army of the Dead), Tenoch Huerta (Sin nombre), Josh Lucas (Hulk), Cassidy Freeman (Longmire), Leven Rambin (Mank), Alejandro Edda (Narcos: Mexico), Will Patton (Armageddon)
Director: Everardo Gout (Days of Grace)
Writer: James DeMonaco (The Negotiator)
Runtime: 1 hour 43 minutes
Release Date: 2nd July (US), 16th July (UK)
The Purge movies are a curious franchise, in that it has lasted nearly a decade and wormed its way into the general pop vernacular of people who've never even seen them, and yet it's hard to identify anyone who'd call themselves a diehard fan. The answer is easy once you understand the Blumhouse formula (basic but appealing concept + cheap as chips budget = high profits), creating a franchise that, despite the combined cost of the entire series being a third of the budget of one typical Hollywood blockbuster, has raked in hundreds of millions of dollars. Given this effective business model where even flops can easily become profitable, you'd think a new Purge film would be an easy sell even at a COVID-stricken box office. Unfortunately, The Forever Purge is perhaps a step too far for even this series, taking it in a direction that is somehow both too ridiculous and yet far too real to be enjoyed as cheap entertainment.  
A lot of folk are immediately turned off by The Purge movies because of their grim premise, assuming they're torture porn flicks that glorify American gun culture. On the contrary, they are actually amongst the most blatant and unsubtle films in regards to their left-wing political messaging, evoking much the same spirit as the John Carpenter films they so obviously take their inspiration from. The series hit its peak with the prequel The First Purge by using its platform to talk about African-American inequality, and with Forever Purge they're now trying to do the same thing with the Latinx community whilst also escalating the franchise into new territory. However, the film bites off far more than it can chew and never really finds its footing.
Right from the off, it haphazardly retcons the ending of Election Year to the point of making it redundant, which will undoubtedly disappoint fans whilst leaving everyone else just a bit confused. The core premise of an extended purge seems interesting and does satisfyingly up the stakes, but it quickly robs the series of the rules and world-building that made it unique, and the story never bothers to cogently explain how or why this new never-ending massacre came to fruition. The political allegories in the prior films were never refined, but now the subtext is the supertext and its far too trite to buy even in a schlocky way. It's far too forced and over-the-top to leave any real impact, and in light of the January 6th assault on the Capitol Building, this sort of imagery is perhaps in too poor taste for even a cheap B-movie. Sure, it may have been filmed back in 2019 and perhaps shows how prescient these movies can be, but it leaves the movie feeling less like escapism and more like scaremongering.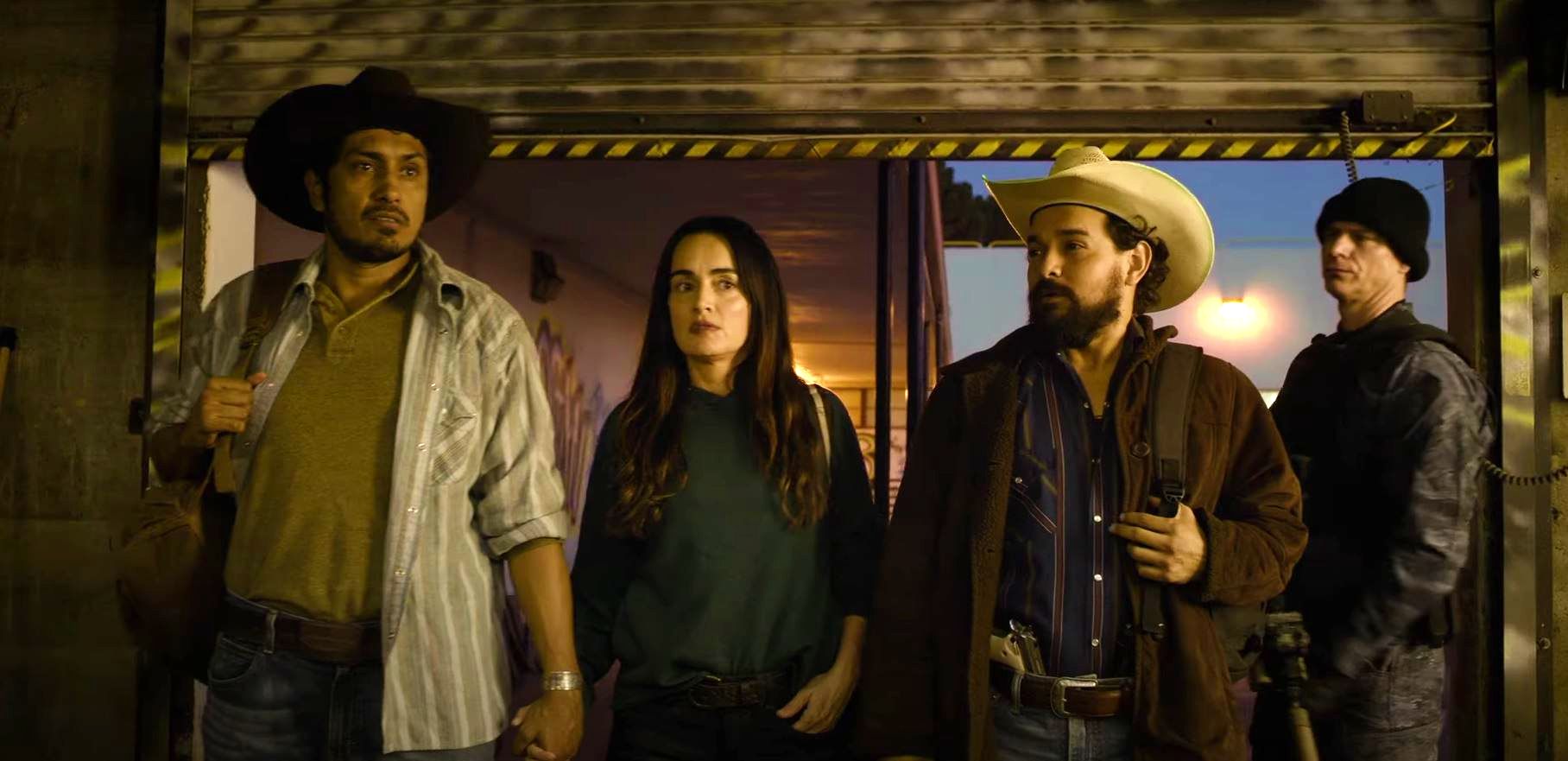 The characters in the Purge movies have never been its highlight; the closest thing they've even had to a mascot was Frank Grillo's Leo Barnes, and he was basically just an off-brand version of The Punisher. That said, whilst the heroes of The Forever Purge certainly aren't the worst this series has had to offer, they are far from their best. Ana de la Reguera is easily the standout as Adela, balancing that fine line between charismatic and tough well as she did in Army of the Dead, but she constantly feels side-lined despite it seeming like she should be our protagonist. Much of the screen time is instead given to the tumultuous relationship between farmhand Juan (Huerta) and his boss' son Dylan (Lucas), but it's obvious before the carnage even starts how that subplot is going to play out.
This isn't helped by Juan as a character being dull and uncharismatic, and beyond one decent one-liner Tenoch Huerta does little to elevate him (if the rumours that he's been cast as Namor the Sub-Mariner prove true, call me trepidatious). Josh Lucas is fine if somewhat uninvested, Zahn McClarnon adds a little class as a Native American activist, and Will Patton makes the most of his role as Dylan's father Caleb (especially a "f*ck you" monologue he gives to some Purgers), but that's about it. All the rest of the characters are forgettable tag-alongs or OTT Purgers with the same psychotic ticks and tells you'd expect. I mean, one of them literally has a giant swastika tattooed on his cheek; how much more unsubtle can a movie get?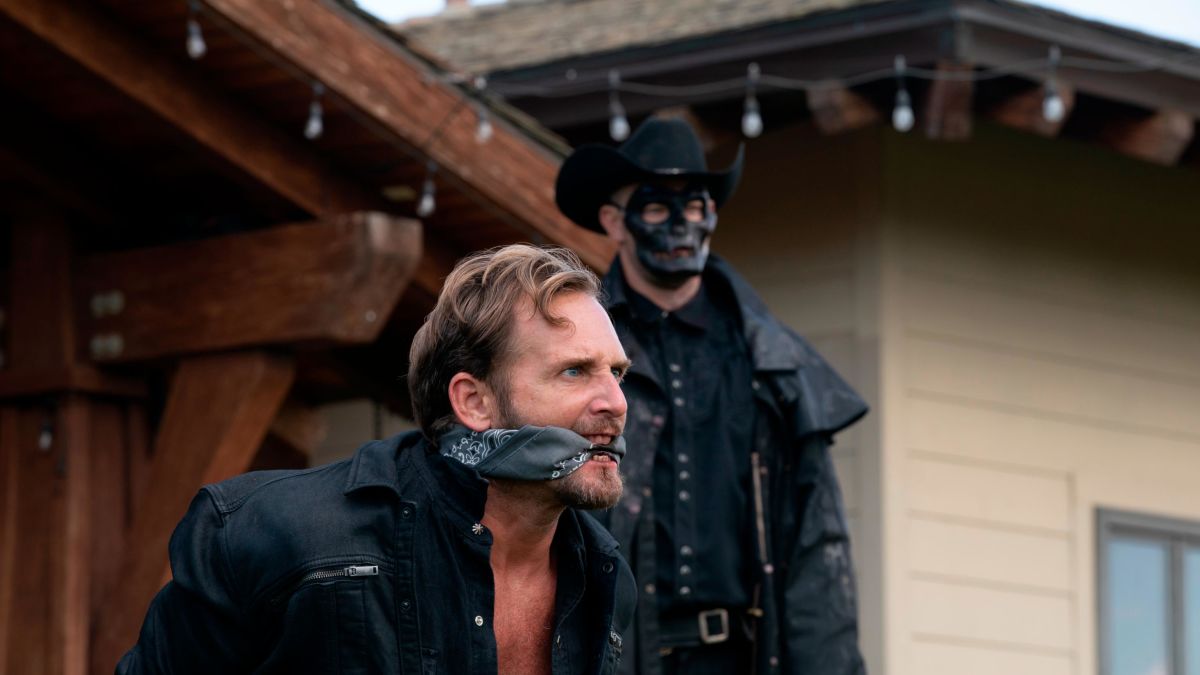 There's not much else to say. It's another Purge movie but on a slightly bigger scale, though it is impressive how much spectacle they've managed to pack in on a limited budget. There are moments in The Forever Purge when the city is under siege and our heroes are trying to wade through the carnage that evoked what I'd love to see in a Resident Evil movie (here's looking at you, Welcome to Raccoon City), but that's all this movie can really do: remind me of other things, including the other better movies in this series. It's certainly not the worst installment because it at least takes full advantage of its premise (I think this is one of the few examples where the first film in a series is by far the worst), but it's likely going to be the most forgettable; even as I write this review, the film itself is quickly dissipating from my memory banks. In a summer packed with both action and horror of all shapes and sizes, there are plenty of other films to recommend instead, and I'm sure Jason Blum will find some way to declare this film a success and greenlight another one anyway.
FINAL VERDICT: 5/10