Starring: Scarlett Johansson (Lost in Translation), Florence Pugh (Little Women), David Harbour (Stranger Things), O-T Fagbenle (The Handmaid's Tale), Olga Kurylenko (Quantum of Solace), William Hurt (A History of Violence), Ray Winstone (Beowulf), Rachel Weisz (Disobedience)
Director: Cate Shortland (Lore)
Writer: Eric Pearson (Godzilla vs. Kong)
Runtime: 2 hours 13 minutes
Release Date: 7th July (UK),9th July (US, Disney+)
After Avengers: Endgame, many wondered if Marvel Studios had hit its saturation point. It is an industry juggernaut that seemingly cannot be stopped, and even as it reached its storytelling crescendo, plans for more movies were already well in motion and feelings of worry and fatigue continued to set in. Where could they possibly go now, and were audiences going to stay interested? So, from a certain perspective, the pandemic delaying the release of Black Widow and the rest of Phase Four was a positive, giving fans time to miss the MCU before coming back with a vengeance. A Black Widowsolo movie has been anticipated by fans for years as Marvel got its act together and started to value heroes who aren't white men (good riddance, Ike Perlmutter), and in many ways the final product does feel like a film we should have seen five years ago. Black Widow will be a refreshing change of pace for audiences tired of the relentless CGI and constant continuity wrangling of recent MCU outings, opting for a more contemplative and character-driven narrative, but it's also unfortunately the most disposable entry in the franchise since Thor: The Dark World.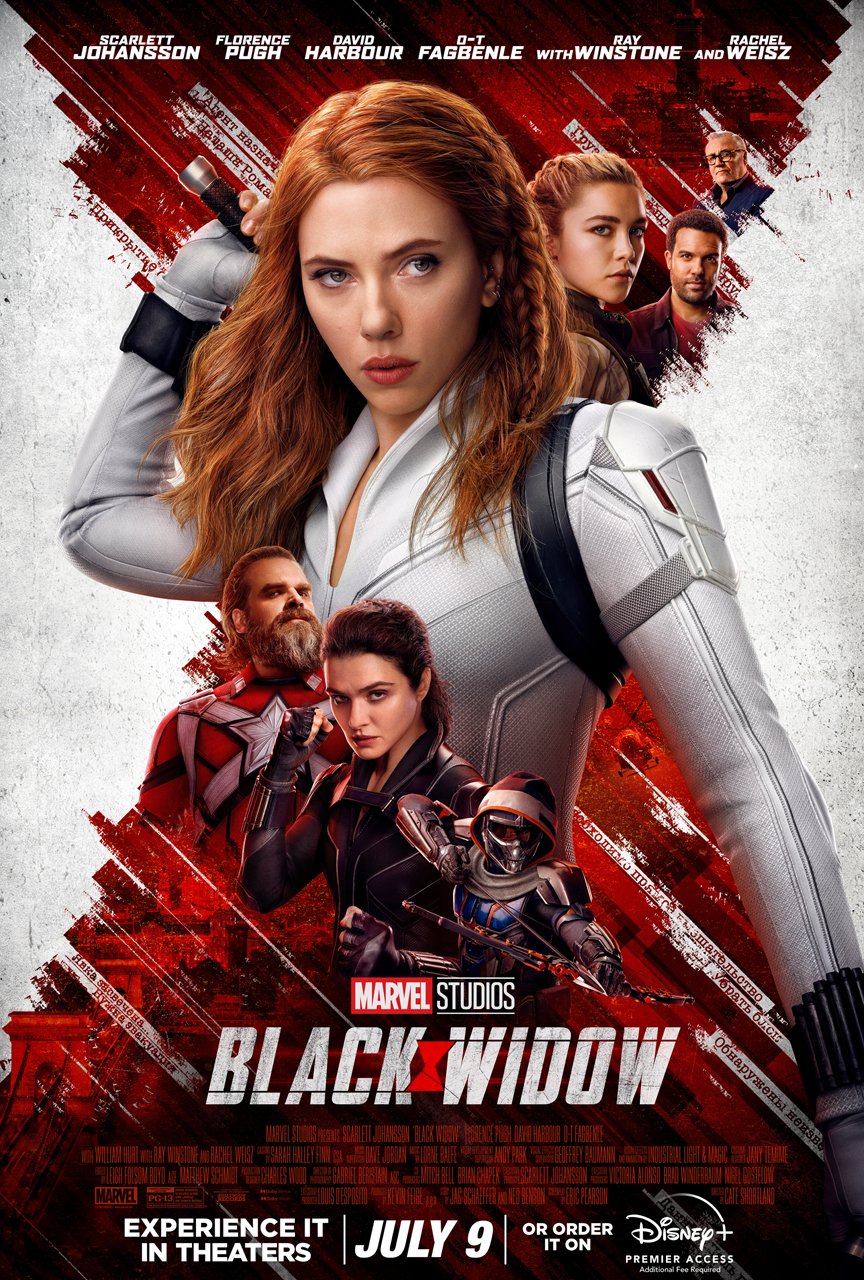 Neatly sliding into the time gap between Captain America: Civil War and Avengers: Infinity War, Black Widow mostly serves to fill in the backstory and character development that the other movies neglected to give the character before the end of the Infinity Saga. It is a slower and refreshingly straightforward story in comparison to its brethren, with a tonal approach most akin to the political intrigue of the Russo Brothers' Captain America films, but even with its scanter number of action sequences it's a pacy and consistently entertaining ride. This is easily Marvel's darkest film yet, often evoking the grounded and morally ambiguous approach of the Bourne series or the Daniel Craig Bond films, which creates some tonal whiplash whenever the MCU elements come into play. Audiences may know this is set a universe where all kinds of sci-fi and fantasy concepts exist, but it does make its commentary on child soldiers and government indoctrination harder to take seriously when it also involves Communist superhumans and floating doom fortresses. The filmmakers seem aware of this thematic conflict and try to acknowledge it, most evident in a moment where Natasha uses her downtime to watch Moonraker, but more than ever the irreverent humour that Marvel constantly bakes into every movie seems forced. That's not to say the jokes are bad (a running gag where Yelena calls out Natasha for her dramatic superhero poses is a nice bit of self-deprecation), but they feel more like the work of studio executives and punch-up writers slapped onto an otherwise solid spy thriller. The best elements of Black Widow are when it eschews the formula and forgets it's a Marvel movie, and apart from incidental references to Civil War and the obligatory post-credits tease, it stands up well enough on its own.
The Marvel Cinematic Universe may sell itself on its vast spectacle and interconnected storytelling, but what has kept audiences engaged in its world is its vast cast of characters and how they develop over each entry. Besides a brief appearance by William Hurt as Thunderbolt Ross and a certain cameo in the post-credits scene, the only returning character in Black Widow is our titular heroine. Scarlett Johansson has always been a solid supporting player as Natasha Romanoff across her MCU appearances, and it's especially great to have seen her evolve from her more questionable early appearances; one of this film's best moments is when it makes light of a certain problematic character revelation of hers from Age of Ultron. The film certainly doesn't shy away from depicted Natasha in a negative light, stripping away her superhero identity and reminding audiences she was raised as an assassin before becoming an Avenger, and the writing and Johansson do a solid job of exploring that dichotomy.
That said, Black Widow herself is easily one of the less interesting players in the film, especially in comparison to her ragtag Russian surrogate family. Florence Pugh is fantastic as Yelena Belova, crafting a character that mirrors Natasha but with a more damaged and pessimistic perspective. David Harbour is an absolute delight as Red Guardian, the washed-up Russian equivalent of Captain America, providing some wonderful comic relief but also some poignancy as he reflects on his past failings; I'd love to see this character interact with the likes of Sam Wilson and Bucky Barnes. Rachel Weisz makes the most of her small role as conflicted scientist and Natasha's mentor Melina Vostokoff, whilst O-T Fagbenle is a funny and grounding presence as former S.H.I.E.L.D. agent Rick Mason. The villains of Black Widow are easily its weakest element, simply adding an exaggerated Marvel sheen to existing Russian bad guy tropes. Ray Winstone does his best to shed his thick Cockney drawl as head honcho Dreykov and he has his menacing moments, but he's a character whose villainy is far more talked about than seen; Natasha doesn't even come face-to-face with him until the climax. Most disappointingly, especially to hardcore True Believers, is the handling of fan favourite Taskmaster. The film does a brilliant job of visually capturing the character, and its fun to watch their action sequences and pick out what moves they've copied from which heroes, but ultimately they are little more than a trumped-up sidekick. Their backstory and characterisation is also wildly different from the comics, which isn't inherently bad and the new take does have a lot of interesting potential, but it's a reveal that comes far too late and doesn't get much chance to develop before the story ends.
Right from its Se7en-esque opening credits set to a sombre cover of "Smells Like Teen Spirit", it's clear that director Cate Shortland comes from an independent background, and that eye is evident throughout Black Widow. There are some long stretches with no action and a lot of chit-chat, but when things do hit the fan the set pieces are refreshingly practical and not overstuffed with superhuman feats. That's not to say the film is without moments of ridiculous spectacle, especially during the film's climactic skydiving sequence that wouldn't feel out of place in a Fast & Furious flick. The staging and choreography is decent, though there is the occasional moment it degrades into close-up quick cuts, and the PG-13 rating is more evident than ever considering much more of the action is blade or gun-based than the typical Marvel flick. The costumes are certainly worth a shout-out, especially considering much of the cast are dressed in slightly varying catsuits, and Lorne Balfe's score is a strong mix of typical superhero thrills with Russian-inspired choir, creating an operatic soundtrack that often instils similar chills to Danny Elfman's Spider-Man score.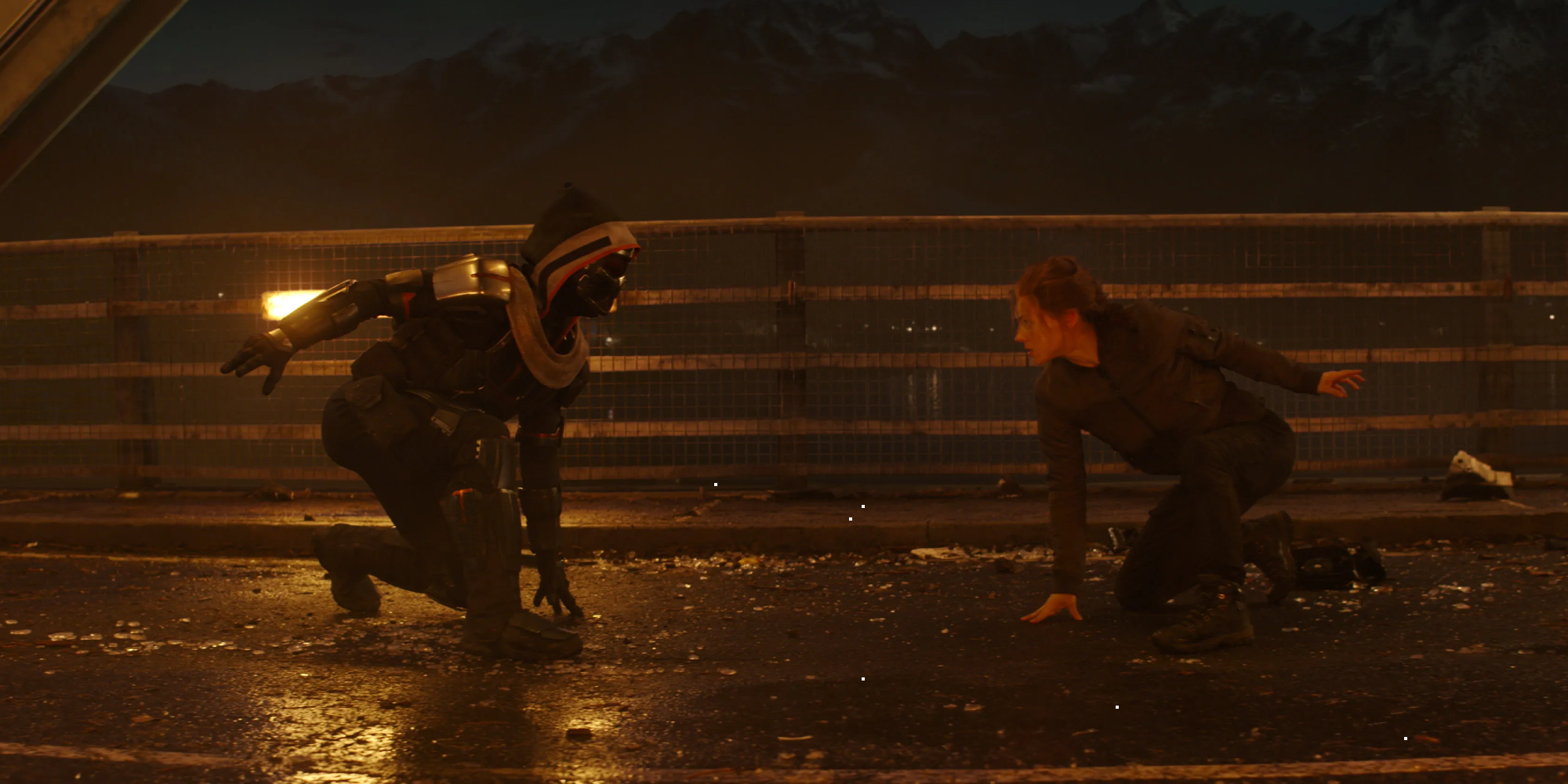 Black Widow will certainly satisfy those who've been waiting anxiously for her solo outing, and it's a solid if formulaic spy thriller in its own right, but it's unlikely to become anyone's favourite MCU adventure. When it has the confidence to try new ideas and dig a little deeper, it's a welcome change of pace from the whizz-bang standard of the superhero genre, but it ultimately always defaults back into the Marvel formula and that's when it's at its worst. Only time will tell if the characters and lore introduced here will have much influence on the story going forward, but this feels less like the beginning of Phase Four and more like an addendum to the Infinity Saga; it adds a little flavour to the narrative, but it's hardly necessary info. With Marvel Studios pumping out several movies and Disney+ shows a year now, it's not like we're ever bereft of new content for long, so hopefully the next few entries will give a better taste of where the universe is headed next.
FINAL VERDICT: 7.5/10