And so we now not only enter a new year, but a new decade of cinema. Only time will tell if these new 20s will be as roaring as the last, especially considering the world is burning outside, but there's still plenty to look forward to at movie theatres! That being said, the start of a decade often doesn't take shape until a few years in, so I doubt 2020 is going to completely alter the cinematic landscape within these next twelve months. It's still a year packed with sequels, reboots and pre-existing intellectual properties, but I'm happy to have also found a strong handful of total originals to scatter about this list. Though the world may not change as soon as we hit 2020, this is the year to plant those seeds, and hopefully within a few years we'll have a better idea of what this decade means for the industry. Otherwise, I think we're still very much on track for the Disney conglomeration of media…
Once again, to avoid the "what about…" comments pre-emptively, I will explain my rules for qualifying:
This list is based on what is scheduled to come out in 2020 as of writing. Some of these may get delayed to 2021 and beyond for a variety of reasons, but as of now they are due for release next year. I've included many a film on one of these lists that have been delayed as such (one of my entries this year was on my list two years ago…). I am no Nostradamus and cannot help it if investors decide a film is better placed in another quarter or needs extensive reshoots.
I'm only counting films that have a confirmed 2020 release (in the US at least). There are plenty of films, generally smaller ones that may still be seeking distribution or sussing out marketing, which are in various states of production with an aimed 2020 release. However, if it doesn't have a specified date on the calendar, it's not getting counted.
Films that will be released here in the UK in 2020 but were released in the US or elsewhere in 2019 don't count. Don't expect to see films like Jojo Rabbit, The Lighthouse or Bombshell on this list. I exclude them because I want to talk about totally unreleased films without any preconception of critical success, not just gush excitedly about films I've heard are good from across the pond and are simply awaiting release on our shores.
This is not a prediction of what I think will be the best films of 2020. There's always a film on this list that ends up utterly disappointing, and the best movies often end up being ones I overlooked or haven't even heard of yet. These are merely the movies I am most excited and/or interested to see, and their quality will be judged when I have actually seen them.
---
A Quiet Place: Part II
Release Date: 20th March (US, UK)
A Quiet Place was one of the bigger surprises of 2018, showing that John Krasinski has directorial potential and finding a deep emotional core about family and survival inside what is otherwise a fairly bog-standard post-apocalyptic sci-fi story. Whilst the first film did enough to set up a compelling sequel, where exactly it has to go is still very much up in the air. At the very least, with her barefoot-and-pregnant phase in the first film now over, hopefully this time around Emily Blunt will get her chance to be a full-on badass. If we're going to have to wait even longer for that long-promised Edge of Tomorrow sequel, I need my badass Blunt fix wherever I can get it.
The New Mutants
Release Date: 3rd April (US), 8th April (UK)
So yeah…this was on my list two years ago. It was supposed to come out in April 2018…then got pushed to February 2019…then August 2019…and now April 2020…hopefully. There is still doubt about whether it'll get a release at all. Reshoots were supposed to be done in the meantime, but there's no word that's actually happened. This movie has been sitting on a shelf so long, the franchise it was meant to be a spin-off from is over. And yet still…that only makes me want to see it more. Whether it turns out to be a mangled mess or a mistreated gem, the behind-the-scenes calamity of getting this movie into cinemas is all the hype I need. Plus, this trailer that is now over two years old still looks pretty cool.
Free Guy
Release Date: 1st July (UK), 3rd July (US)
Movies based on video games tend not to be good. Movies about video games, however, have a slightly better track record, and the premise of Free Guy is so simple but ripe for opportunity that it's surprising no one has attempted it before. Essentially a riff on Stranger Than Fiction but with video games instead of novels, the prospect of Ryan Reynolds as a bumbling NPC becoming self-aware of his place in a Grand Theft Auto-style world has comedic potential written all over it, and the trailer shows promise with its vibrant and quirky sense of humour. Director Shawn Levy can be pretty hit-and-miss, and there's every chance this could end up a disaster like Pixels, but the premise and trailer are enough to have me cautiously optimistic.
The Invisible Man
Release Date: 28th February (US, UK)
It looks like Universal is making attempt #3 at bringing their Monsters franchise back for the modern era, and this time they've taken the safer but far more interesting avenue: handing the reigns to over to the low-budget maestros at Blumhouse. With Saw and Insidious co-creator Leigh Whannell now at the helm, this new take on The Invisible Man just from the trailer delivers exactly what the likes of The Mummy and Dracula Untold were missing: actual horror and suspense. Shifting the perspective of the story and turning it into a psychologically twisted examination of abusive relationships and gaslighting with a supernatural twist is a bold move, and exactly the right way to modernise these classic horror stories for a new age. Given the limited scope and budget of the film, it's an investment that is likely to pay off for Universal no matter its ultimate quality, but here's hoping it delivers.
Fast & Furious 9
Release Date: 22nd May (US, UK)
After a brief detour with Hobbs & Shaw, the mainline series is back on track and the roads are wide open with possibilities. Which characters are they going to bring back from the dead? What crazy new stunt are they going to attempt with cars? And can we please just send these characters to space already? With series veteran Justin Lin back in the director's chair for the first time since the sixth instalment, here's hoping for a rollocking and mad adventure that brings a little of that magic that made peak Fast & Furious so special. Plus, John Cena is in this one, and here's hoping he does something incredibly ridiculous like…stop a car with his teeth or something. I don't know. These movies are kinda crazy and hard to read.
West Side Story
Release Date: 18th December (US, UK)
Whilst it of course has its origins on the stage (and Shakespeare before that), West Side Story is so iconic in its 1961 film form that the idea of a remake feels almost disrespectful. Then again, when your name is Steven Spielberg, pretty much anything is a possibility. Robert Wise's direction of the original has been so influential to many directors over the years (even Michael Bay credits Wise and his version as one of his main inspirations), so it's simply going to be fascinating to see how Spielberg apply his distinct aesthetic to the classic story. Outside of the opening of Temple of Doom, he's never even directed a musical before, and that in and of itself is compelling enough to have me intrigued. Thankfully, the filmmakers have learnt from time and have cast the film with a more racially-appropriate cast, and even original star Rita Moreno returns in a different role! With that said, it's going to be interesting having two big latinx-focused musicals on our screens in the same year…
In The Heights
Release Date: 26th June (US, UK)
The likelihood of a film version of Hamilton is high…just not for at least another five years. However, the long-gestating adaptation of Lin-Manuel Miranda's other hip-hop musical is finally making it to the screen this summer. With a fantastic cast brimming with latinx and black talent, and both Miranda and co-writer Quiara Alegría Hudes heavily involved in the production, this musical tale centred around a bodega in Washington Heights will hopefully reach an audience far beyond the Broadway stage. Director Jon M. Chu may have a sporadic track record, but his history with the Step Up franchise and Crazy Rich Asians certainly demonstrates he knows how to make lavish crowd-pleasing fare with an eye for diversity. Speaking of Crazy Rich Asians…
Raya and the Last Dragon
Release Date: 25th November (US), 27th November (UK)
…our next entry is from that film's co-writer Adele Lim, who recently turned down the sequel after discovering she was being paid less than her white male co-writer. So, jumping ship to instead write the next feature from Walt Disney Animation Studios seems like a solid move. The studio's third film steeped in Asian culture after Mulan and Big Hero 6, there's not too much info yet on Raya and the Last Dragon, but based purely on the image below I'm excited for the possibilities. Also, Awkwafina is in it, and Awkwafina makes everything better.
Top Gun: Maverick
Release Date: 26th June (US), 17th July (UK)
I shouldn't be excited about a sequel to Top Gun for a variety of reasons. It's been too long. Joseph Kosinski makes very pretty but ultimately empty and derivative films. Tom Cruise in anything other than Mission: Impossible is often dicey. This is an idea that really should have been put aside after Tony Scott's untimely passing and been left at that. With that said…damn, the footage released so far is impressive and makes the whole thing seem relevant again. The only way this could be any better is if they somehow embraced all the homoerotic subtext of the first film, but I sincerely doubt that will happen. Otherwise, looks pretty damn cool. Will probably look great in IMAX too.
Coming 2 America
Release Date: 18th December (US, UK)
So Eddie Murphy finally made his first great movie in over a decade with Dolemite Is My Name, and now he's reteaming with that film's director Craig Brewer to make the long-awaited sequel to one of his most iconic films. Coming to America still holds up as one of the great comedies of the 1980s, and right now honestly feels like a more ideal time than any to bring Prince Akeem back to the streets of New York. With a good chunk of the core cast returning along with new additions like Wesley Snipes, Leslie Jones and Tracy Morgan, Coming 2 America has plenty of potential. Let's just hope the comedy sequel curse steers clear of this one…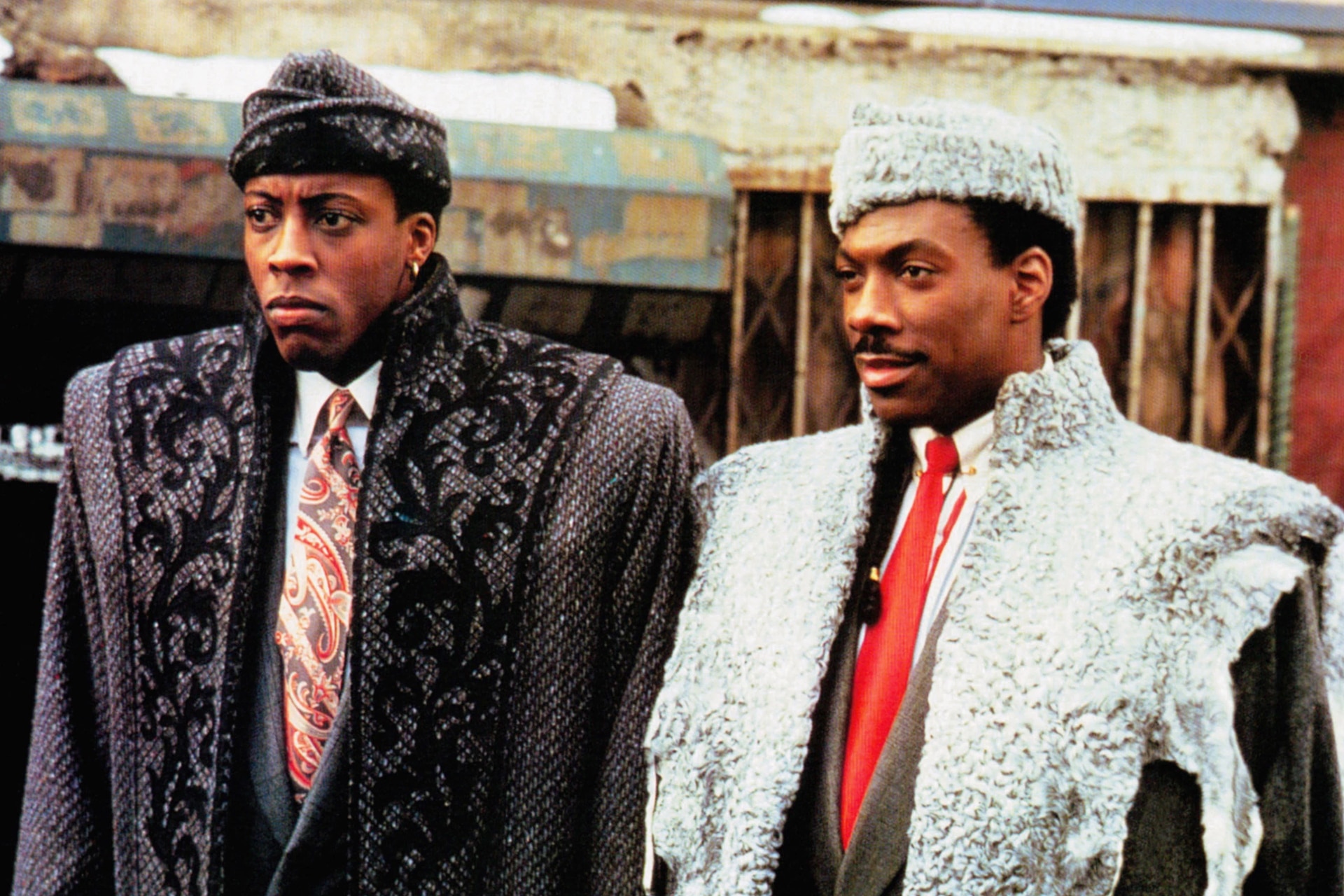 Bill & Ted Face the Music
Release Date: 21st August (US, UK)
Speaking of sequels to 80s movies, this one has been a long time coming, and it seems the Keanussance has finally worked enough magic to bring back the Wild Stallions. The idea alone of seeing Bill and Ted now middle-aged and dealing with fatherhood is a funny enough concept alone, and a new status quo that could bring some needed emotion to what is likely to be another wacky time-and-reality jumping adventure. Also, William Sadler is back as Death, and that alone bumps this way up the list.
Onward
Release Date: 6th March (US, UK)
Pixar has two films out in 2020, with their second feature Soul releasing in the summer, but this fantasy adventure from Monsters University helmer Dan Scanlon looks the more promising of the two so far. Fusing fantasy tropes with a modern setting isn't the most original of ideas (hell, we saw Bright do that pretty poorly recently), but from the footage so far it looks like an imaginative concept bolstered by a story of two brothers who want to see their dad one last time that'll hopefully deliver plenty of laughs and heart.
Godzilla vs. Kong
Release Date: 20th November (US, UK)
So whilst Godzilla: King of the Monsters might not have been to everyone's tastes (personally, I thought it was a lot of goofy fun), the Monsterverse must soldier on to what it's all been building to: the long awaited rematch between King Kong and Godzilla. Director Adam Wingard has a spotty history from highs like You're Next and The Guest to lows like Blair Witch and Death Note, but there's no denying he's a visually compelling and talented director, and his eye feels perfectly at home with the other filmmakers who've been crafting this world of monsters. There are all sorts of ways this film could go, but as long as it delivers on the promised action with gusto, it's going to be difficult to make this concept fall apart without at least a little fun on the way.
The King's Man
Release Date: 18th September (US, UK)
Kingsman: The Golden Circle ended up being a bit of a disappointment but, instead of heading straight into a third instalment, Matthew Vaughn and co are stepping back in time for a sec to detail the origins of the titular espionage organisation. The trailers so far show more of the whipsmart action and charming wit the series has made itself known for, but hopefully this isn't just yet another new coat of paint on a series that so far has only had one story to tell. If this one can pull something new out of its bag of tricks and prove Kingsman is more than just a one-trick pony, hopefully that will make a return to the story of Eggsy a little more justifiable.
The Lovebirds
Release Date: 3rd April (US), 24th April (UK)
Director Michael Showalter and actor Kumail Nanjiani struck gold in 2017 with their touching rom-com The Big Sick, and now for their second feature they are attempting an odd combo: romantic comedy and murder mystery. With Nanjiani and Insecure star Issa Rae in the leads as a couple on the verge of break-up whilst being accused of murder, this mixture of emotions could easily end up muddled, but in these capable hands I have a strong amount of trust. Maybe it doesn't sound like the heartbreaking awards contender The Big Sick was, but it at least has the potential to be a barrel of laughs.
Run
Release Date: 24th January (US), N/A (UK)
My spidey sense is telling me that, given this film is supposedly a month away from its US release but has had no promotional materials released other than a few set photos, this film may be in danger of a major delay. Regardless of when it releases, this looks like a sleeper release to watch. This is director Aneesh Chaganty's sophomore after his fantastic 2018 debut Searching, and it's going to be interesting to see what he can do with a more traditional feature rather than a screenwatch film. The base concept of a daughter suspecting her mother of something dark has prime psychological thriller material written all over it, and featuring a disabled protagonist is certainly a plus for both diversity and suspense. Wish I had more to say, but certainly keep an eye out for this one.
Black Widow
Release Date: 1st May (US, UK)
After nearly a decade of waiting, Black Widow is finally getting her own solo movie, and what an interesting beast it looks to be. An espionage thriller in the vein of Winter Soldier but turned up a notch, the exact purpose of this midquel to Civil War and Infinity War still remains a mystery, but hopefully this is more than just a promise to Scarlett Johansson being ticked off a checklist and instead dives deeper into the lore of the Marvel Cinematic Universe and retroactively gives Natasha Romanoff a proper shot at depth and redemption. On the plus side, if all the business with Johansson proves tiring, Florence Pugh and David Harbour look more than entertaining enough to keep this one afloat.
Ghostbusters: Afterlife
Release Date: 10th July (US, UK)
The response to 2016's Ghostbusters was incredibly disappointing, with a flawed but decent and promising film being shunned to the sidelines simply for not being exactly what the fanboys wanted. Well, it seems Sony and Jason Reitman have taken notice and are delivering what they asked for…just not in quite the way they expected. Film fans should already know that Jason Reitman is about as a distant a filmmaker from his father and original Ghostbusters director Ivan as you can get, and based on the trailer Afterlife is arguably even more of a departure for the series than Paul Feig's entry. This could easily just end up being Ghostbusters: The Force Awakens, but if Reitman can find something interesting and poignant to say about the series whilst still delivering the goods, I'm more than excited to hear.
Tenet
Release Date: 17th July (US, UK)
Any new Christopher Nolan is always going to be an event, but Tenet easily looks like his most exciting new idea since Inception. As usual, the exact details of the film's premise is being kept tight under wraps, but the trailer certainly suggests time manipulation is the central thrust of the film's narrative. The film's cast of John David Washington, Robert Pattinson and Elizabeth Debicki is also intriguing, but of course Michael Caine is still on hand in some form. Whatever the final film turns out to be about, it is all but guaranteed to be a visual spectacular.
No Time to Die
Release Date: 2nd April (UK), 10th April (US)
Daniel Craig has been our James Bond for fourteen years now, and with this fifth and (most likely) final outing as 007 we find ourselves in interesting territory. With Cary Fukunaga at the helm (the first non-British director in franchise history) and a cast full of returning favourites and interesting new faces, No Time to Die looks to wrap up the Craig era in spectacular fashion. The trailer perhaps hints a little too much that it hasn't learnt the big lesson from Spectre (i.e. don't treat James Bond like a Marvel movie and pretend these films have an overarching planned narrative), but the action and style absolutely looks on display.
Last Night in Soho
Release Date: 18th September (UK), 25th September (US)
As much as Edgar Wright likes to play around with genre, he has equally found himself stuck in the same self-deprecating cycle since the beginning of his career. Well, with Last Night in Soho, it looks like he's finally trying something completely out of his wheelhouse. With a premise that reads like Midnight in Paris crossed with Don't Look Know and a cast including Anya Taylor-Joy, Thomasin McKenzie and Matt Smith, this psychological horror fantasy looks to be an ideal step forward into a new era for Wright, and hopefully he can find the right balance between expressing his reverence for cinema and leaving his own mark too.
Eternals
Release Date: 6th November (US, UK)
Whilst Marvel's first entry this year seems to be playing it relatively safe, Eternals promises to be something a little more cosmic and out-of-this-world. Whilst the property is extremely obscure and not particularly popular, its century-hopping narrative rife with gonzo Jack Kirby imagination certainly hints this could be something of a change of pace. With Marvel's most diverse and interesting cast to date and a filmmaker as idiosyncratic as Chloe Zhao at the helm, hopefully Eternals can officially kick of Phase Four with some style.
Birds of Prey (and the Fantabulous Emancipation of One Harley Quinn)
Release Date: 7th February (US, UK)
I can't believe I'm more excited for DC's slate of films this year than Marvel's, but here's the simple case: Marvel is continuing to simply do what it's proven good at, whilst DC has been slowly stepping out of its shell and is now promising vastly different and vibrant superhero films that looks and sound totally unique. Case in point: a manic, pop-punk extravaganza starring some of the greatest ladies in Gotham City drenched in neon and explosions. Margot Robbie's Harley Quinn was the main saving grace of Suicide Squad, and now without the restraints of Jared Leto and the Snyder era holding her back it's going to be exciting to see what she can do with this much-beloved character.
Dune
Release Date: 20th November (UK), 18th December (US)
Dune is a property that is ripe for adaptation and yet is so difficult to distil into something palatable. Alejandro Jodorowsky famously failed in his attempts to adapt Frank Herbert's seminal sci-fi classic to the screen, and the 1984 David Lynch version was rife with issues caused by getting lost in translation. Now, Denis Villeneuve is taking his shot with this first part in a promised duology adapting the original novel, and I couldn't think of a better filmmaker to finally tackle this immense task. With films like Arrival and Blade Runner 2049 under his belt, Villeneuve's eye and sensibilities are perfect for the rich and pedantic world of Dune, and anyone else just needs to look at the cast list for the film to realise the immensity of this production. Whether this ends up a triumph or a disaster, this is absolutely one to watch.
Wonder Woman 1984
Release Date: 5th June (US, UK)
If you haven't already noticed, women are directing all four major superhero blockbusters this year. Whilst that is far from meaning sexism in the industry is over, it is a sign that the tides are shifting and women's voices are being more heard in mainstream entertainment, and the first Wonder Woman film was a huge game changer that proved so many assumptions about women in blockbusters wrong. With Patty Jenkins once again at the helm, Wonder Woman 1984 looks like it has everything that made the first film a near-masterpiece of the genre and, now finally free of the Snyder aesthetic, can be as joyously bright and wild as it wants. How is Chris Pine's Steve Trevor back? What is Kristen Wiig as Cheetah going to look like? How can Pedro Pascal still be this attractive whilst playing a Donald Trump stand-in? All of these questions and more have me utterly chomping at the bit to see Wonder Woman 1984, and here's hoping it's the film that truly signals the rebirth of the DC Extended Universe.