Starring: Ralph Fiennes (Skyfall), Gemma Arterton (Tamara Drewe), Rhys Ifans (Notting Hill), Matthew Goode (Watchmen), Tom Hollander (Pirates of the Caribbean: The Curse of the Black Pearl), Harris Dickinson (Maleficent: Mistress of Evil), Daniel Brühl (Rush), Djimon Hounsou (Gladiator), Charles Dance (Last Action Hero)
Director: Matthew Vaughn (Kick-Ass)
Writers: Matthew Vaughn & Karl Gajdusek (Oblivion)
Runtime: 2 hours 11 minutes
Release Date: 22nd December (US), 26th December (UK)
So Kingsman: The Secret Service was a pretty good movie, wasn't it? It was brutally entertaining and knew how to be controversial without giving into tastelessness, but it also had a good heart and a timely message about the class system that was essentially "f*ck off Tories, you don't have to be an upper-class tit to be a superspy!" It's a shame then that the sequel The Golden Circle squandered its franchise potential by just being a lame duck rehash of the first film, eschewing evolving the story in favour of reverting the status quo just so they could bring Colin Firth back; it truly was Men in Black II all over again. Now a third entry is still apparently on the cards, but in the meantime Matthew Vaughn and company have opted to make a prequel exploring the origins of the titular Kingsman organisation. Aptly titled The King's Man, it finally makes its way to cinemas after a cavalcade of delays (some COVID-related, some not), but has all that extra time mean the filmmakers have learnt from their mistakes and made a Kingsman film that lives up to the original? Short answer: no, but at least they made new mistakes.
Whilst the founding of the Kingsman Agency was discussed in the first film, they never went into explicit detail about the hows and whys beyond "a bunch of rich people who lost loved ones during World War I decided to pool their resources to create an independent espionage bureau". The King's Man though, as the title implies, is more of the story of one person than of an organisation, focusing in on Orlando Oxford (Ralph Fiennes) and his journey to becoming a key founder. The idea itself is sound enough, but the film quickly stumbles out of the gate due to its confused approach to historical accuracy. The first two films were set in a world mostly like ours but dealt with supervillain crises only allegorically similar to those we face in real life, but the prequel instead opts to interweave its spy game antics into the fabric of real-world events. This could have worked and even been a bit of anarchic fun if it went down the Inglorious Basterds route by clearly marking itself as alternate history fiction, but it cares too much about fitting into the logic of real events that it comes off as not only stupid but (and remember, the first movie avoided being this) tasteless. By the time it reaches its preposterous mid-credits reveal, it feels less like a clever piece of historical revisionism and more like the ravings of a conspiracy theorist who only vaguely remembers bits of trivia from high school history class.
This issue, however, is really just a microcosm of the film's completely inconsistent tone. Of the many problems with The Golden Circle, one of them was that it went too far into the realm of the ridiculous and forgot to put as much care into the characters and themes. The King's Man, meanwhile, has overcorrected on that front and is instead an overly serious mess that seems to forget what kind of movie it's supposed to be. There are long stretches where if you walked in without context, you'd assume it was a completely serious historical drama, and whilst this does occasionally add some weight to proceedings, it needs an effective counterbalance. It's only in the story's final throws where the film seem to remember it's a Kingsman movie and starts actually having fun, but by then it's too little too late and it just doesn't gel with the movie that proceeded it. It's a movie that mistakes seriousness for earnestness, missing that sense of ironic detachment that made the first film so joyous in its ridiculousness; it was a love letter to the Roger Moore era of Bond movies, but one that knew they were silly and dated. I'm willing to accept a movie where WWI is sparked by a shadowy SPECTRE-like organisation made up of a bunch of villainous historical figures led by a raving anti-capitalist Scotsman, but when you play it as straight as The King's Man does, it stops being fun and honestly comes off as more disrespectful than if they'd given in completely to batsh*t fiction.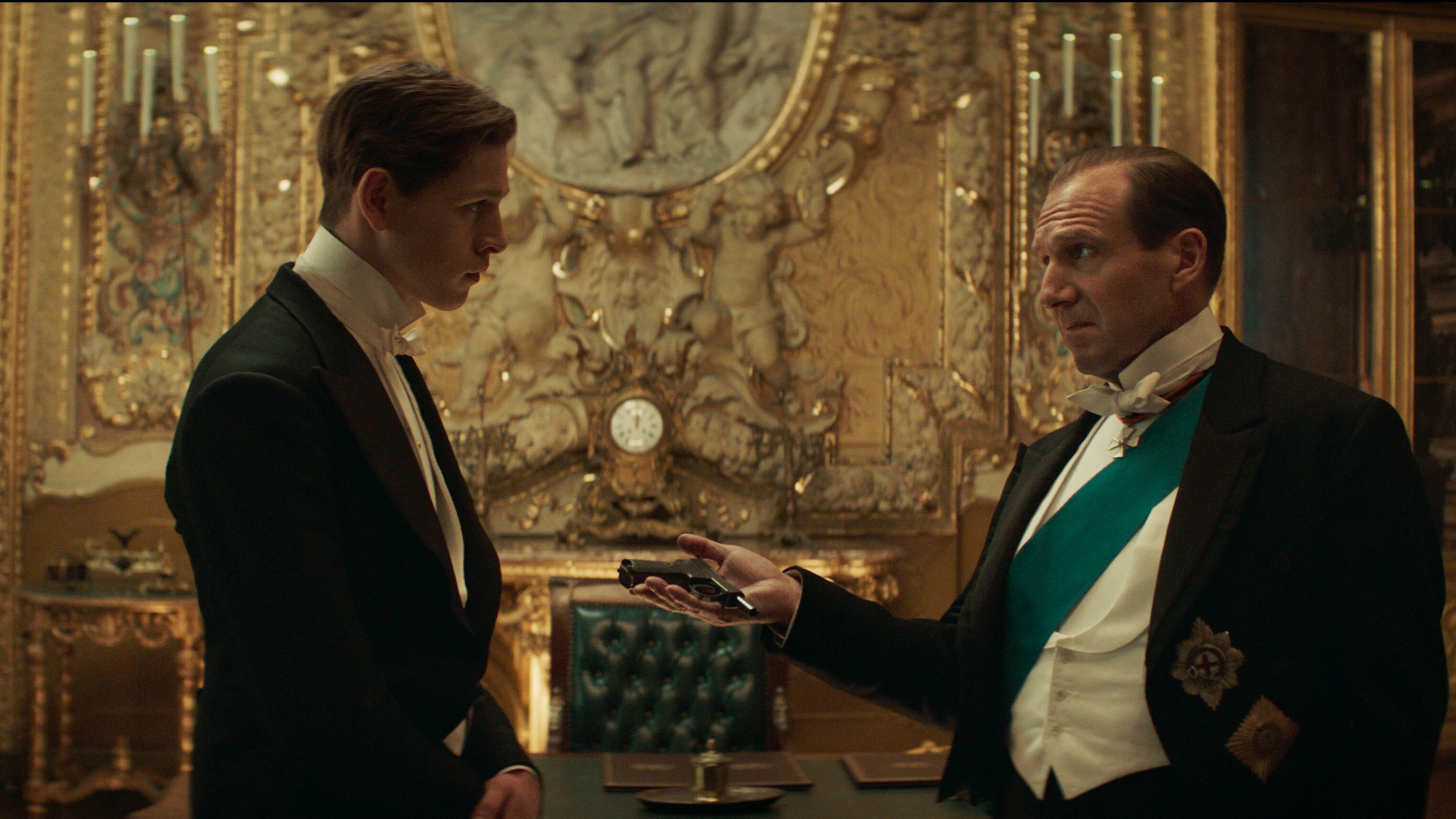 A lot of what carried the first Kingsman, and its sequel to a lesser extent, were the lead performances by Taron Egerton and Colin Firth as new recruit Eggsy and his mentor Harry. Whilst The King's Man initially seems to be setting up a similar dynamic between Fiennes' Orlando and his headstrong son Conrad (Harris Dickinson), this never really comes to pass. Fiennes is charming enough in the role and occasionally gets to utilise that dry wit that made him so funny in The Grand Budapest Hotel, but he spends far too much of the film with a stick up his arse fretting over the safety of Conrad. It's a dry and repetitive conflict as Orlando constantly beseeches his son not to go to war and does everything he can to stop him, whilst Conrad argues back about his pride and need to be of use to his country.
It's hard to blame Dickinson, who seems to be a fine enough actor, but the part of Conrad is a bland and one-note character who only starts to get interesting as his story is coming to an end. Far more compelling are the Oxford's servants and confidants Polly (Gemma Arterton) and Shola (Djimon Hounsou), who imbue a lot of charisma and fun into the film whenever they get the chance, especially in the action-packed climax. The rest of the performances are just as tonally confused as the film itself, with the only actor who understood the assignment being Rhys Ifans as a particularly repellent Grigori Rasputin; I just wish he were the actual main villain, whose identity remains shadowed for much of the runtime. Tom Hollander does a solid enough job that I didn't realise he was actually playing three roles, whilst great actors like Daniel Brühl and Stanley Tucci are wasted in bit parts that seem to be here for the sake of setting up a sequel to the prequel (please, just don't). Oh, and this is a pretty consistent criticism of mine, but there's not enough Charles Dance. Filmmakers, please: stop wasting his time if you're not going to give him a decent part.
Another defining aspect of the previous Kingsman films were their over-the-top action sequences, with the legendary church fight from the first having become something of a meme in the years since. Unfortunately, much of that brazen dynamism seems to be missing from The King's Man. There are only two action sequences where the film actually feels like a part of the franchise: a three-on-one brawl as Orlando, Conrad and Shola attempt to take on a surprisingly-spry Rasputin, and a properly brutal fight where Orlando attempts to take control of an elevator from a gigantic henchman. Outside these two standout moments, there's honestly not even that much action to speak of beyond one scene set in the trenches that can't help but seem weak in comparison to other recent WWI-set action films like 1917 or Wonder Woman. The whole aesthetic of the film feels like a bit of damp squib, grounding things much more in reality than the other films and only sparingly indulging in playful spy camp; it does, however, include a sword which is also a gun, and that's always a plus. The colour palette is just a mush of browns and beiges, the camerawork lacks energy even when the action pops off, and the score is bland and unmemorable. In a current blockbuster landscape where even the weakest and most cookie-cutter examples are at least technically impressive, there's nothing really to wow in The King's Man that isn't just a fleeting reminder of what the series used to be.
It's such a shame that a franchise that began with so much potential to revolutionise a genre has now become another staid example of one, but that's where we are. The King's Man is far from an awful movie, but it's just an aggravatingly bland one that adds little of value to the series' mythology. In its attempt to counteract the excess of the prior entry, it instead becomes a confused and po-faced slog that only occasionally remembers it's supposed to be an action-packed spy caper. The entire point of the Kingsman franchise was to be a fun alternative to the increasingly serious modern Bond movies, but in a bizarre twist of fate, this year's No Time to Die honestly has far more in common with The Secret Service than this supposed prequel to it. Vaughn and company say they still intend to finish off the series with one more adventure with Eggsy, but at this point it's hard to really care. If this franchise wants to redeem itself and go out on a high note, it seriously needs to buck up and deliver a finale that lives up to the high standards of its progenitor.
FINAL VERDICT: 4.5/10