Starring: Stephanie Beatriz (In the Heights), John Leguizamo (John Wick), María Cecilia Botero, Diane Guerrero (Orange is the New Black), Jessica Darrow, Angie Cepeda (Love in the Time of Cholera), Wilmer Valderrama (That '70s Show)
Director: Byron Howard & Jared Bush (Zootopia)
Writers: Jared Bush and Charise Castro Smith
Runtime: 1 hour 39 minutes
Release Date: 24th November (US, UK)
Wow, Lin-Manuel Miranda's having a pretty damn good year. I have admittedly not seen his Sony/Netflix animated musical Vivo yet, but In the Heights finally made it to the silver screen in spectacular fashion and his feature directorial debut tick, tick… BOOM! was a fantastic re-imagining of Jonathan Larson's semi-autobiographical stage show that proved Miranda has talent behind the camera as well as on the page and the mic. So after all that newness, him reteaming with Disney to write songs for another animated film shouldn't feel as surprising or special; Moana was great, so this was bound to be at least pretty good. However, much like its protagonist Maribel Madrigal, Encanto is far more special than it seems on the outside. What begins as seemingly another typical Disney flick with a little Hispanic flavour evolves into one of their deepest and most emotionally-resonant films yet, and will likely take the titles of 2021's best family film and best musical.
Much like Pixar's Luca earlier this year, what helps Encanto feel so warm and intimate is how relatively contained its scope is. The story rarely goes more than a few miles away from its central locale, all of the prominent characters are members of the same family, and whilst the conflict and stakes may be huge for said household, in the grand scheme of things they are far from world-ending. That certainly doesn't mean its story could have been told in live-action or without all of its fantastical elements, because that's where the film's energy and imagination lies, but the emotional core of the film is a tale that everyone in the audience will be able to connect with. Whilst the studio has been actively trying to diversify and buck the formula since at least Frozen, Encanto feels like a true departure in how much it places character development and interpersonal conflict over external driving forces. There's no great evil mastermind driving a rift between Maribel and her family, or some lost MacGuffin she needs to find that will save her home from falling to ruin. Instead, everything she needs to save the day and resolve her issues, when you put aside all the fantastical elements, ultimately just comes down to talking things out (or, because this is a musical, singing them out).
It's also the first time I've seen any kind of film aimed at kids, especially Disney, tackle subjects like mental health and burnout. It's perhaps not quite as spelled out as, say, the subtext regarding prejudice in Zootopia, but it's handled with just as much care and these are vitally important messages to get across to kids about taking care of yourself and not letting what others have or think make you feel lesser. There's honestly very little to critique here other than maybe some subplots get a little less attention that I would have liked, but they are such minor gripes when everything in the grand scheme works as beautifully as it does. All in all, it expertly achieves what every great family movie should be: a fun and entertaining adventure for the kids, but one that imparts to them, and everyone else watching for that matter, a positive and motivational message.
Mirabel Madrigal is the best kind of modern Disney protagonist, in that she is a far cry from the lovestruck princesses of old and yet still neatly fits into that same pantheon. Plenty of family films feature an outcast as their main character, but few of them explore it as well as Encanto, with the entire film's narrative thrust forward by Mirabel's desperation to be accepted by her family for who she is. It's a parable that will appeal to and comfort all kinds of shunned children, not to mention teaching parents how to raise and support them to be the best version of themselves, and so much of that lies of the shoulders of Stephanie Beatriz's phenomenal vocal performance. She imbues Mirabel with a bouncy and immediately amiable energy that works wonders for both comedy and the musical numbers (two areas Beatriz has excelled in previously), but it's in her more sombre moments where she really impresses and Mirabel evolves from simply a great protagonist into the new standard for Disney animation.
That said, Encanto is a film about family, and the rest of the Madrigal clan are all fascinating in their own ways. María Cecilia Botero makes for an equally genial and intimidating presence as the matriarch Abuela Alma, perfectly capturing the spirit of that family member you resent but yearn to earn the respect of; c'mon, you all have that one. John Leguizamo is nearly unrecognisable as the mysterious and similarly spurned uncle Bruno, Diane Guerrero has impeccable big sister energy as the golden child Isabela, and Jessica Darrow brings a wonderful dimensionality to the brawny Luisa. The rest of the cast don't get nearly as much focus, but they are all fantastic whenever they get their moments to shine, and there's simply too many of them to compliment all in one review. Needless to say, whilst Beatriz's Mirabel is the easy standout performance, the entirety of the family Madrigal is what uplifts Encanto to instant classic greatness.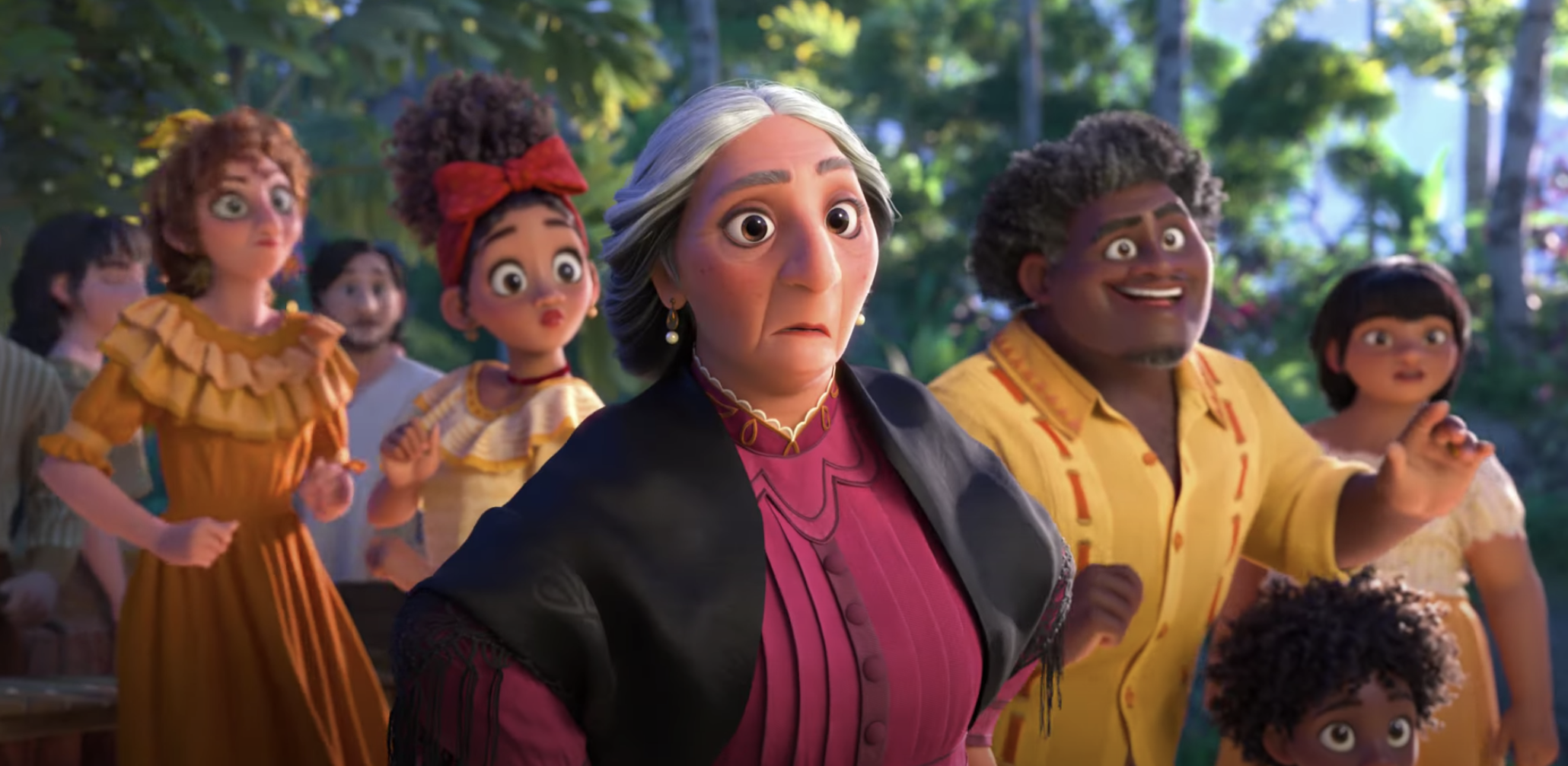 With Moana, Lin-Manuel Miranda was able to wonderfully capture the spirit of the classic Disney musicals whilst still retaining his signature flow and hip-hop influences, and he brings that exact same approach to the infectious bops here. Their frantic tempo and rapid-fire lyrics may make them hard for fans to drunkenly sing along to on karaoke night, but they are just as catchy as anything Miranda has written and will immediately bring a smile to any viewer's face. It's hard to pick a real standout song because they're all so great for completely different reasons, but in terms of breakout potential, I think "Surface Pressure" is the one most audiences will glom onto. A ballad sung by Luisa about overcompensating and inner exhaustion, it's easily the most recognisably Miranda song of the bunch and, whilst perhaps not as upbeat as Moana's "You're Welcome", it has a similarly infectious flow and its subject matter will appeal to anyone who has ever pushed themselves too far. "The Family Madrigal" is a bouncy and witty introduction to all of the characters that sets the tone perfectly, "Waiting on a Miracle" is a beautifully tragic reinterpretation of the perennial "I want" song for Maribel, and "What Else Can I Do?" gives her and Isabela a wonderful duet about being more than what is expected of you. Delightfully complimented by Germaine Franco's fantastical Latin-inspired score, and this is an absolute treat for any fan of musicals.
On an aesthetic level, Encanto also takes Walt Disney Animation Studios to new heights in regards to visual and technical mastery. The character designs and animation style are most reminiscent of The Princess and the Frog, but brought to life in 3D whilst still capturing the bounce and rhythm of 2D animation; even some of Disney's best CG-animated films don't recreate that feel as well as they do here. Though the film mostly takes place in and around one house, it is an enchanted home of course, and that still allows the designers and animators to imagine gorgeous locales as we visit each Madrigal's unique Tardis-like rooms. It is a film exploding with colour and life from every corner, which alone makes it a must-see on the biggest screen you can, and after so many of their recent animated releases have been made exclusive to streaming or hard to see in theatres, it's simply wonderful to be able to experience Encanto the way it's designed to be. However, if going to the cinema still isn't a viable option for you, the film will be available on Disney+ come Christmas Eve, so there really is no excuse to miss it completely.

Encanto is everything you could want from a Disney movie and more, delivering the fun and the thrills but also a heart-breaking family story and a wonderfully inclusive message about difference and defying expectation. Disney always tends to release their animated features around Thanksgiving in the States, but this one is more apt than ever, and will hopefully help families in turmoil like the Madrigals put aside their squabbles and learn to become the support system they need to be for each other. It's too early to tell where it will land in the pantheon yet, but if Encanto doesn't become an instant classic on the same level as Beauty and the Beast or Frozen, it will absolutely reign supreme as its greatest hidden gem. It is admittedly perhaps not best suited to the youngest of children (I'd say kids 6 and up will get the most out of it), but this is truly that perfect kind of family film that has something for everyone. Don't wait on a miracle, and go see Encanto at your earliest convenience!
FINAL VERDICT: 9.5/10
P.S. The accompanying short film Far From the Tree is also a gorgeous 2D wonder and certainly not worth missing, and is easily one of the most thematically complimentary shorts when paired with its feature presentation.