Starring: Gemma Chan (Humans), Richard Madden (Bodyguard), Kumail Nanjiani (The Big Sick), Lia McHugh (Songbird), Brian Tyree Henry (Godzilla vs Kong), Lauren Ridloff (Sound of Metal), Barry Keoghan (Dunkirk), Don Lee (Train to Busan), Kit Harington (Game of Thrones), Salma Hayek (Desperado), Angelina Jolie (Maleficent)
Director: Chloé Zhao (Nomadland)
Writers: Chloé Zhao and Chloé Zhao & Patrick Burleigh (Peter Rabbit 2) and Ryan Firpo & Kaz Firpo
Runtime: 2 hours 36 minutes
Release Date: 5th November (US, UK)
It's hard to imagine that, less than a decade ago, Guardians of the Galaxy was seen as a risky prospect for Marvel Studios. Now, it's one of the most popular and recognisable parts of the franchise, and the Marvel Cinematic Universe has only continued to get bolder and weirder since. As Phase Four continues to show what a post-Endgame MCU looks like, the studio takes yet another step into the less explored parts of its source material to present Eternals to the masses. A property than even most comic book fans have little more than a passing familiarity with, it represents an opportunity to really break the conventions of the series and present something wholly unique, and if that was the brief then they have succeeded. Whilst it's certainly not going to be to everyone's taste, and far from the conventional crowd-pleaser audiences may be expecting, Eternals adds complexity, nuance and diversity sorely needed in a series that has gotten all too predictable.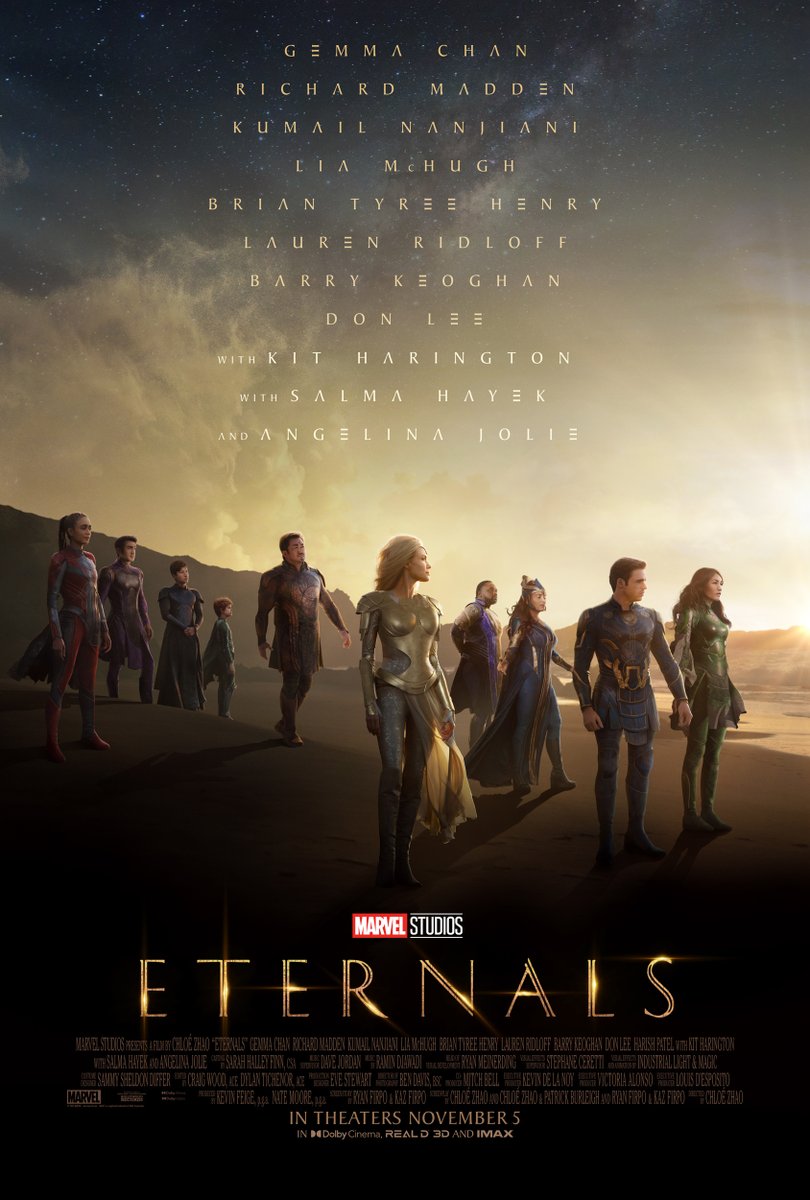 Right from its opening moments with a foreboding opening crawl and stunning shots of deep space and prehistoric Earth, it's obvious that Eternals wants to set itself apart from its forbearers. Its epic story spans centuries, its tone is more contemplative and world-wearier, its pacing more precise and composed, and it takes as many cues from the likes of Terrence Malick and Alejandro Jodorowsky as it does modern blockbusters. Though it certainly connects itself to the past, present and future of the MCU, for the most part it stands on its own and has far more interest in exploring its own ideas than riffing on those that have come before. In a franchise that has such a pre-established format that it often more resembles a television series, having such a completely different perspective this time around is thoroughly refreshing. However, it does face some growing pains.
The first half is noticeably weaker than its second, as it struggles to find the right balance between its Hollywood and artistic influences. The stop-start nature of the plotting and pacing is jarring at times, with many scenes either dragging on far too long or brushing past moments that needs more room to breathe. Much of the present-day story is spent simply assembling the cast, jumping from one locale to the next to introduce yet another character, interspersed with flashbacks throughout history to show the Eternals in their prime and explore how they disbanded. That said, once the film finds its groove and starts digging deeper into its multifaceted characters, timely commentary on socio-political and environmental collapse, and philosophical exploration of concepts like morality and determinism, Eternals finally begins to be the movie it set out to be. It's a film far more interested in asking questions than providing answers, which may frustrate more mainstream viewers, but after so many spoon-fed good vs. evil stories it's wonderful to have a blockbuster that leaves the audience the chance to think about its content rather than simply react. In spite of its barren setting, the third act is an absolute feast as not only the action reaches its peak, but the character conflicts and thematic undercurrent empower it all to a satisfying crescendo and a fittingly bittersweet aftermath. By the tale's end, it becomes clear that Eternals' true aspiration is to be an arthouse blockbuster in much the same vein as the works of Denis Villeneuve and The Wachowskis. Whether you think that its connection to Marvel is holding it back from being truly itself, or that it strays too far from the MCU formula to feel like a contiguous part of the grander tapestry, that is for you to decide.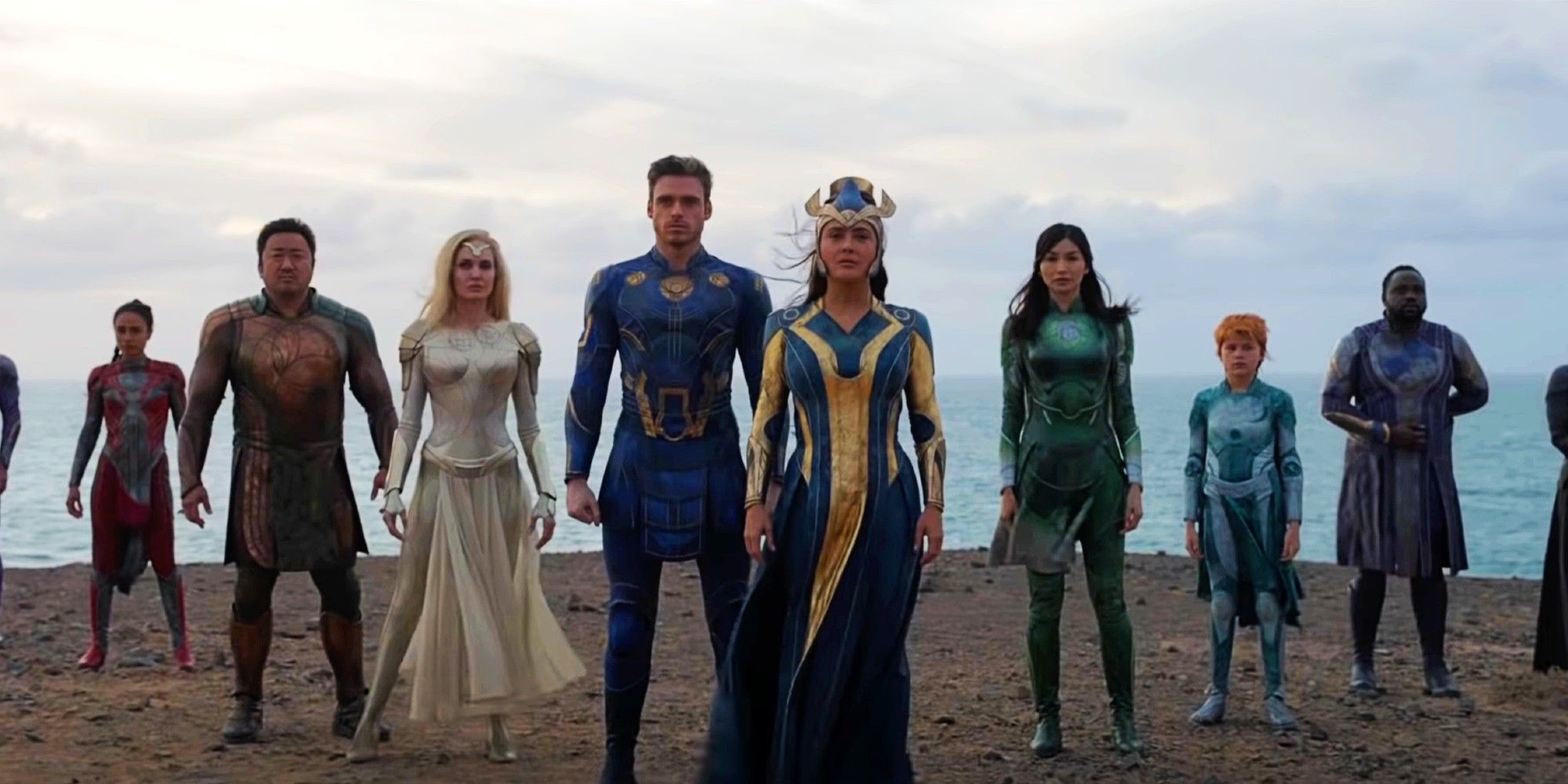 It certainly took far longer than necessary for Marvel to diversify its world, and it certainly has plenty of opportunities to improve, but Eternals has certainly one of the more fascinating and distinctive cast of characters in the series yet. Even with its beefy runtime, the film has a lot of new faces to introduce and not all of them get the attention they deserve, but it's hard to say anyone turns in a bad performance. After being short-changed by her blink-and-you'll-miss-her role in Captain Marvel, Gemma Chan gets a second shot at superheroics as nominal lead Sersei and does a fantastic job as the emotional core of the team. She's perhaps not got the most eccentric or unique personality compared to her co-stars, but Chan brings a relatable and down-to-earth perspective as someone truly caught between two worlds. Richard Madden fits comfortably into the boots of Ikaris, who functions as much as an allegory for the prototypical superhero as he does his mythological namesake, giving a reserved but commanding performance that takes on new meaning as we learn more about his past. Angelina Jolie is perfectly cast as warrior goddess Thena, bringing both gravitas and vulnerability to a character struggling with trauma in an all-too-human way, whilst Salma Hayek makes the most of her limited screentime as the nurturing and wise Ajak.
Despite being the youngest cast members, Lia McHugh and Barry Keoghan are saddled with the most morally complex characters as the trickster Sprite and the manipulative Druig, with McHugh showing an intelligence beyond her years that brought to mind Kirsten Dunst's star-making turn in Interview with the Vampire. There's also plenty of comic relief to go around courtesy of Kumail Nanjiani as the boisterous but self-obsessed Kingo, but even he too has his moments of introspection that ground him, as does his valet/ sidekick Karun (played wonderfully by Harish Patel). The short straws are ultimately drawn by Bryan Tyree Henry as inventor Phastos, Lauren Ridloff as speedster Makkari, and Don Lee as tank Gilgamesh, but they all get at least one standout moment and the actors acquit themselves with gusto; it's great to finally see queer and disabled heroes brought to the MCU, and the representation is brief but tastefully done. Then there's Kit Harington as Chan's love interest Dane Whitman, who might as well have a giant "I'll be important later" sticker on his forehead for the whole film, because his role here is little more than an extended cameo. If you know your comics, you'll know Whitman's importance to the Marvel lore and that Harington is an apt choice, but it's the one element of the film that really feels like a relic from a more conventional MCU version of this story.
Throughout its production and marketing, it's been stressed that Eternals is as huge a step away from the MCU formula on a technical level as it is story-wise, and that is certainly reflected in the aesthetic presentation. Though of course still stuffed to the brim with state-of-the-art CGI, the line between fantasy and reality is certainly more blurred by the increased amount of on-location shooting and natural lighting compared to most modern blockbusters. Director Chloé Zhao's independent eye is all over every frame of Eternals, managing to show her directorial influence in a way few other MCU helmers have other than Taika Waititi and James Gunn, and it'd be fascinating to see what else she could accomplish if she continues down this big-budget path. Despite being having been behind the camera on four prior MCU outings, cinematographer Ben Davis gives the film a distinct look that retains a similar palette to previous films but ups the grit and verisimilitude of the visuals. The production design is audacious and inventive, especially the cold halls of the Eternals' spacecraft and the grotesque look of the Deviant race, and Ramin Djawadi returns to Marvel for the first time since Iron Man to deliver a suitably sombre but triumphant score. It's absolutely amongst the most visually satisfying films in the franchise so far, and one can only hope Marvel starts to allow its future filmmakers similar freedom to go beyond the boundaries and experiment with more flavours beyond the base MCU taste.
Eternals doesn't always succeed in its ambitions and will likely leave some viewers cold, but for those who can get past its shortcomings and see the potential beneath, it's an experience absolutely worth seeing on the biggest screen possible. Zhao absolutely has the chops to compete in the blockbuster space should she so wish, and hopefully the stumbling blocks of pacing and focus are ones that'll be overcome in future ventures. Even if it doesn't end up being a property as popular as The Avengers or Guardians of the Galaxy, the Eternals themselves are characters crying out for further exploration and will hopefully find a comfy corner of the universe to call their own, and they've certainly set the stage for a lot of potential threads to come. If you're already on the MCU train, you'll have likely decided to see this movie long before you read this or any other review and can appraise it for yourself. However, if you're someone who has never really gotten the fuss or become tired of the formula, Eternals is certainly worth a gander. You may not end up liking it, but it's hard to argue that it's at least one of the most unique blockbusters of 2021.
FINAL VERDICT: 8.5/10