Starring: Vin Diesel (Riddick), Michelle Rodriguez (Avatar), Tyrese Gibson (Transformers), Chris "Ludacris" Bridges (Crash), John Cena (Blockers), Jordana Brewster (The Texas Chainsaw Massacre: The Beginning), Nathalie Emmanuel (Game of Thrones), Sung Kang (Better Luck Tomorrow), Michael Rooker (Guardians of the Galaxy), Helen Mirren (The Queen), Kurt Russell (Escape from New York), Charlize Theron (The Old Guard)
Director: Justin Lin (Star Trek Beyond)
Writer: Daniel Casey (Kin) & Justin Lin
Runtime: 2 hours 25 minutes
Release Date: 24th June (UK),25th June (US)
Can you believe this year marks the twentieth anniversary of The Fast and the Furious? All this time later, the franchise is somehow simultaneously unrecognisable and yet, deep in its heart, very much the same. It's even harder to believe its engine is still running when its first few sequels weren't so well-received; heck, Tokyo Drift nearly went straight-to-video. After some tune-ups and the return of the core cast, the franchise is now bigger than ever and is showing no sign of stopping soon, and many attribute the series' recovery and continued success to director Justin Lin. It was under his tenure that Fast & Furious evolved from simple car-racing pictures into heightened action bonanzas, and every director to helm an entry since owes so much to his work. Now eight years after his last ride, Lin returns to living life a quarter-mile at a time with F9, a film that is well aware of the legacy trodden in the dirt track behind it. The result is a celebration of excess that will certainly entertain diehard fans, but is also easily the most insular and self-congratulatory Fast film yet.
Many have compared the winding and twist-filled narrative of the Fast & Furious sage to a soap opera, and the comparisons are certainly apt. These are stories packed with sudden betrayals, characters returning from the dead, overcomplicated retcons and leaps in logic only the most forgiving of viewers could accept unironically. The filmmakers are keenly aware of this on some level, bringing in a lot of self-deprecating humour and knowing winks, and it has served them well up until now. That said, F9 leans so heavily on its intricate lore to the point it is practically impenetrable to anyone who isn't already invested in the series. This ninth instalment (tenth, counting spin-off Hobbs & Shaw) is a sprawling epic packed with everything good and bad about the franchise you'd expect, with new bells & whistles on top of that to boot. It's got world-dominating supervillains, futuristic sci-fi tech, characters improbably surviving death-defying stunts, and a boatload of flashbacks to help tie together the web of plot threads even tighter. A good chunk of F9 is basically a prequel to flesh out the backstory of the Toretto family, and these moments are the only times it ever attempts to emulate the more grounded world of the first movie.
Otherwise, this is yet another entry stretching to find new and interesting sharks to jump and, whilst it is still incredibly entertaining to watch whether you're actually invested or just along for the ride, it's certainly not going to please every fan. It's a film that is trying to bite off more than it can chew, with enough ideas to pack three movies and not enough time to fully give any of them justice. That said, even through all the ridiculousness, it definitely recaptures the heart and connection that made the other Lin entries special, and was especially lacking in The Fate of the Furious. I can't recommend anyone start their Fast & Furious experience with this film, and I imagine trying to do so would be like reading only the footnotes of a Tolkien novel, but if you like this flavour of batshit insanity then it's absolutely worth a watch.
The pantheon of characters who have appeared in this franchise is so vast that you need a spreadsheet to keep track of who's who and who knows who's who. Of course, Vin Diesel once again takes centre stage as Dominic Toretto, but for the first time in a long while this focus on him doesn't feel so forced. The relationship between Dom and his estranged brother is the real thrust of the film, both narratively and emotionally, and his arc throughout is a necessary bit of character development that is easily the best journey for Dom since the first movie. John Cena as Jakob Toretto does a solid job and his rivalry with Diesel does have sparks, but the pair don't get enough screen time together or a fully satisfying physical showdown. Cena's presence is also somewhat undercut by sharing the villain seat with Thue Ersted Rasmussen as wealthy benefactor Otto, a shallow and irksome character whose only real purpose is to make Jakob look less detestable. The rest of Dom's crew deliver what you expect at this point: Michelle Rodriguez is as stoic and badass as ever, Tyrese and Ludacris constantly exchange baffling banter, and it's great to see Nathalie Emmanuel gets in more on the action this time.
Jordana Brewster is back as Mia Toretto and gets a lot more to do here than she did in her last few appearances, though the film fails to play up her mediating relationship between Dom and Jakob. There are a lot of other returning players from across the series, but they're all mostly cameos or perfunctory appearances, the most frustrating of these is Charlize Theron's return as Cipher; she's a relatively integral part of the story, but she's only on-screen for five minutes tops. Of course, the big return folks have been anticipating is Sung Kang as fan favourite Han, but his appearance is easily the film's biggest let-down. They spend a lot of time building to him, then more explaining how he's even back…and then he doesn't really do anything. His appearance here only serves to lay the groundwork for the #JusticeForHan the fans have been clamouring for, and in bringing him back they've had to make the biggest leaps in retroactive logic they've made; the film itself even compares the move to literal magic. Hopefully the payoff to this development is worth it, and Kang is as charismatic as ever in the role, but there had to be a more elegant way to bring him back.
Whilst F9's bending of narrative is harder to forgive, the series has had a pass when it comes to realistic car physics for at least a decade, and that childlike sense of fun has led to some of the most ridiculously fun action sequences in recent film history. The ninth film is full of sumptuous thrill rides both automotive and on-foot and, whilst none of them are quite as iconic as those in Fast Five through Furious 7, they all bring sometimes new to the table. Whether it be driving through minefields, swinging across canyons or wrecking shop with high-powered magnets, F9 really knows how to put the bust in blockbuster. Even some of the more traditional set pieces feel fresh by upping the scale, like the standout sequence in Edinburgh as a thrilling rooftop chase weaves and collides with a truck ploughing through traffic (though as someone who's lived in the Scottish capital, they mess up the city's geography badly). The action's only real downside is that it peaks too early, with the climax offering very little that the film or its predecessors have done better; there is one big twist to the final sequence that has ludicrous potential, but it's far too small a part of the overall picture. As far as the rest of the technical aspects go, it's what you'd expect from the series: bright and fluid cinematography, gorgeous locales, sound design packed with engine revs and gunfire, and a banging soundtrack full of rap, reggae and electronica.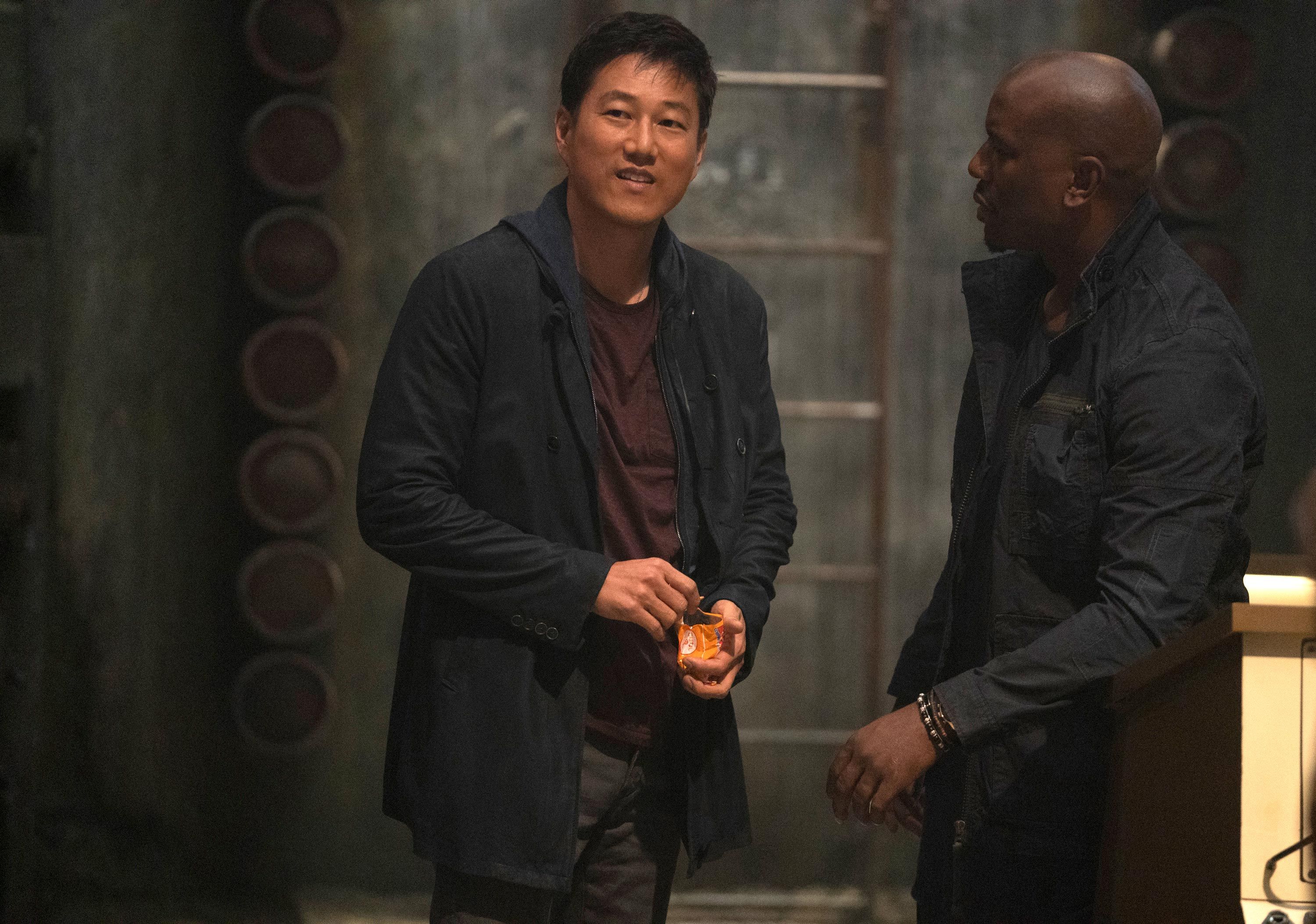 F9 is a film that certainly accomplishes what it sets out to do, but there's undeniably going to be some audiences who still won't accept it. Only time will tell, but I suspect this will end up being one of the most divisive entries in the franchise. On the one hand, it delivers a satisfying character journey for Dom and brings together a lot of the disparate corners of the series into a massive celebration of itself. However, it is so self-indulgent and high on its own supply that it is nigh unpalatable to an uninformed audience; even the most continuity-obsessed Marvel movies aren't this incomprehensible without context. If you're someone who knows and loves this franchise back to front, warts and all, you're probably going to have a fun time no matter what. If you're a more casual viewer who only remembers the gist of each movie, I'd suggest rewatching a few of them and reading up on the wiki just so you can remember your Sean Boswells from your Owen Shaws. Fast & Furious has now basically locked itself into a never-ending game of one-upmanship, and there will eventually come a time when the films hit a ceiling and can't top itself anymore. Hopefully, they will turn off the engines and retire before it reaches that point, but they are skating so close to that line already.
FINAL VERDICT: 7/10