Starring: Elizabeth Moss (The Handmaid's Tale), Oliver Jackson-Cohen (Faster), Aldis Hodge (Straight Outta Compton), Storm Reid (A Wrinkle in Time), Harriet Dyer (No Activity)
Writer/Director: Leigh Whannell (Upgrade)
Runtime: 2 hours 4 minutes
Release Date: 28th February (US, UK)
You'd think Universal taking their long history of horror classics and turning them into a major franchise in the middle of the cinematic universe boom would be a no brainer, but they've failed to several times over the past decade. After their biggest attempt (the so-called "Dark Universe") flopped at the first hurdle with the dreadful reboot of The Mummy franchise, it seemed like it might be the end of the road for seeing the classic monsters on screen again.
Instead, they've taken a new tack: focus on individual projects with no connectivity, hire atypical and/or developing talent, and make them on a smaller scale. It's an obvious but smart move, and one that ultimately serves its genre better than gargantuan blockbusters. Low budget horror maestros Blumhouse have stepped up to the plate first with Leigh Whannell's contemporary take on H.G. Wells' The Invisible Man, and on the first bat they've hit a home run. A genuinely distressing and topical psychological horror, this is a stellar example of how to update a classic concept to reflect modern fears.
Neither a straight-up adaptation of Wells' novel or the 1933 film starring Claude Rains, this new version only takes the base premise of a manic genius turned invisible and instead crafts a new tale that examines those powers at their logical but morbid extreme. What could have easily been just another slasher flick with a sci-fi gimmick (i.e. Paul Verhoeven's Hollow Man) instead takes a more cerebral approach, avoiding cheap thrills and keeping the audience in a constant nervous state. Despite its heightened premise, The Invisible Man depicts hard-hitting subjects like spousal abuse, post-traumatic stress and gaslighting with the seriousness they deserve. It expertly puts you in the mindset of its mentally frail protagonist as her grip on reality is gradually shattered, to the point I'd actively warn any viewers with a history of anxiety, depression and/or abuse to be aware of your mental health before watching. Much like The Babadook and Don't Breathe, it understands that horror is most effective when grounded in humanity, if not necessarily reality, making for an experience that is harrowing yet beautiful.
Much of The Invisible Man's success lies at the feet of star Elizabeth Moss, who delivers a phenomenal performance as our paranoid protagonist Cecilia. Tragic and relatable in equal measure, her depiction of PTSD puts most serious dramas to shame and gives a valuable voice to survivors in the wake of the #MeToo era. However, despite her mental instability, the film avoids making her a helpless victim and Moss keeps the character grounded in reality even as the story grows increasingly high-concept. Much like Toni Collette in Hereditary and Lupita Nyong'o in Us, it is an awards-worthy performance in a genre picture that is likely to be overlooked by the prestige crowd. The supporting cast delivers capably, especially Aldis Hodge as Cecilia's friend and confidante and Storm Reid as Hodge's daughter, whilst Harriet Dyer is decent enough as Cecilia's beleaguered sister Emily (though her personality does rapidly shift between scenes). Of course there is the titular character himself and, though he is rarely seen or heard, Oliver Jackson-Cohen gives an eerily understated performance as Adrian Griffin. Playing the role like a sociopathic Tony Stark, his on-screen time is brief but effective, crafting a terrifying horror villain who's evil feels all too real.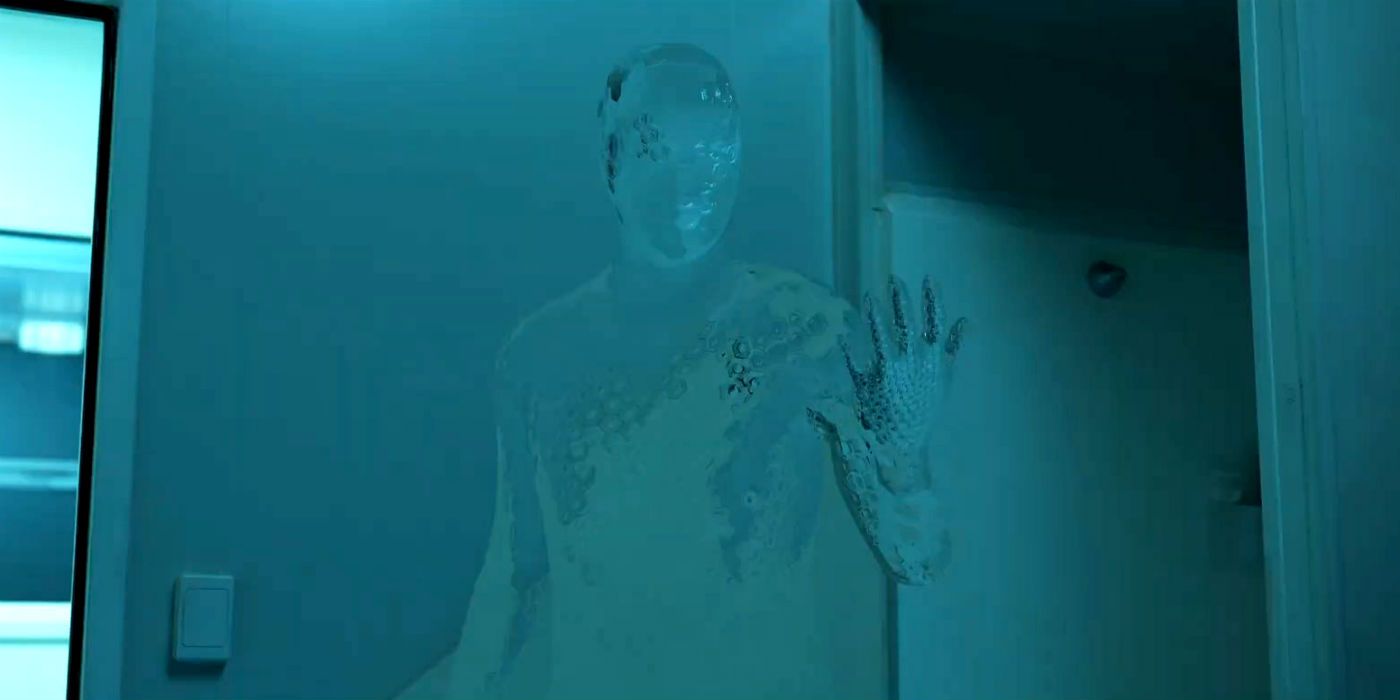 Making a film that involves invisibility can be super-tricky, as it is far too easy to make it look ridiculous as actors seemingly flail about at nothing. Luckily, Leigh Whannell's direction focuses more on what we can't see than what we can, building suspense through long takes and unnerving camera pans. That's not to say the film is without action or violence, but they are intelligently staged and feel earned after waiting and watching the frame for Griffin to strike. Whannell's experience with unconventional action on Upgrade becomes evident during these most intense moments, and his ability to pull off these sequences on such a low budget is especially impressive. The cinematography is strong but the camera operating is especially stellar, whilst the film's tremendous sound design and Benjamin Wallfisch's haunting score give the film some great auditory heft.
The Invisible Man is a perfect blend of high-concept and grounded horror, tapping into the zeitgeist and delivering a haunting parable about psychological abuse. Whilst undeniably a horror film at its core, it also transcends the genre to the point where non-horror fans will find something to enjoy. Whilst it certainly doesn't linger on Universal's past mistakes, its success proves that you don't need gigantic budgets, a shared universe or celebrity stunt casting to reinvent the Universal Monsters brand. Though perhaps not as ingenious or revolutionary a take as, say, Jordan Peele's recent output, it is still a brilliant testament to how the best horror takes our real-life anxieties and warps them into debilitating nightmares. Heed the trigger warnings beforehand, but absolutely go see it if you can! 
FINAL VERDICT: 9/10