Starring: Kelly Marie Tran (Star Wars: The Last Jedi), Awkwafina (The Farewell), Izaac Wang, Gemma Chan (Humans), Daniel Dae Kim (Hellboy), Benedict Wong (Doctor Strange), Sandra Oh (Killing Eve)
Directors: Don Hall (Big Hero 6) & Carlos López Estrada (Blindspotting)
Writers: Qui Nguyen & Adele Lim (Crazy Rich Asians)
Runtime: 1 hour 47 minutes
Release Date: 5th March (US/Disney+)
It's been over four years since Walt Disney Animation Studios have delivered a wholly original feature film, with their last two outings being uncharacteristic diversions into sequels with Ralph Breaks the Internet and Frozen II. Whilst there was nothing inherently wrong with those films or making sequels in general, it did leave some to wonder if the studio's second renaissance may finally have come to an end. With Raya and the Last Dragon, those worries should be put to bed. Though it treads on plenty of familiar territory for a Disney film, it also brings plenty that is innovative and refreshing to the genre. It is a sign that the House of Mouse, whilst still having an immense respect and confidence in its foundations, is willing to experiment and try to reach out to new concepts and audiences, and we can only hope this is a sign of even greater stories to come.
Raya and the Last Dragon takes place in a world ravaged by an unforgiving plague that has ripped families apart and divided humanity against itself, leaving those who survive yearning for a time when life can return to normal whilst their leaders only seek to fortify their own power. Whilst some of these parallels are likely unintentional, it's a tale that reflects the current state of the world in an optimistic but honest fashion, and will hopefully teach and encourage its younger viewers with its unifying themes. The moment-to-moment storytelling is a little less inspiring, with a first act that relies on heavy-handed exposition and an episodic approach to its main quest. Though all of these elements come together and pay off excellently come the earth-shattering climax, it does leave you wanting a more optimised story. At times, it feels like an entire season of a TV series squashed into ninety minutes; a great series with a beautifully realized world, relatable and distinctive characters, and a truly inspiring message, but an abbreviated version of it nonetheless.
With that said, those broad strokes are more than enough to keep the plot fresh and engaging, and what it lacks in fine detail it makes up for with moral complexity and abundant sincerity. This is easily Disney's most adult movie since its first renaissance, often evoking the bleaker spirit of Mulan and The Hunchback of Notre Dame,but it doesn't succumb to tonal whiplash like those films; when things get dangerous or sombre, they are treated as such without relying on slapstick sidekicks or anachronistic humour to placate the kids. It is an emotionally rich and satisfying epic fantasy tale in its own right, and Disney should be commended for taking those risks and relying less on its traditional formulas.
Disney princesses have come in a lot of varieties over the years, and whilst more modern examples have pushed themselves away from the traditional dainty image, Raya is certainly the most drastic departure from the mould in quite a while. She's a warrior first and a princess second, with a bitter attitude and a reluctance to trust others, but she has a sensitive soul and a relatable motivation for her pessimistic outlook. Voiced with exuberant aplomb by Kelly Marie Tran, Raya is a truly wonderful protagonist and a stellar example of how to craft a strong and multifaceted female protagonist, and we deserve more heroines of her ilk in the future.
At her side as the titular last dragon is Awkwafina as the naïve and excitable Sisu, who certainly evokes Disney's previous animated dragon sidekick in her performance. Thankfully, she avoids turning Sisu into a caricature of her real-world persona and plays the character sincerely, delivering some of the film's most heartfelt moments as well as being its main source of comic relief. The supporting cast is wonderfully fleshed out by a stellar mix of talent, from newcomer Izaac Wang as the boisterous ship captain/cook Boun to the always-dependable Benedict Wong as the warm-hearted barbarian Tong, but the clear standout is Gemma Chan as Raya's rival princess Namaari. She's the best kind of antagonist, in that she's just as emotionally and morally complex as our protagonist, making every time she and Raya come to blows feel that much more captivating; with a simple rewrite, you could easily turn her into the hero and it'd be just as satisfying.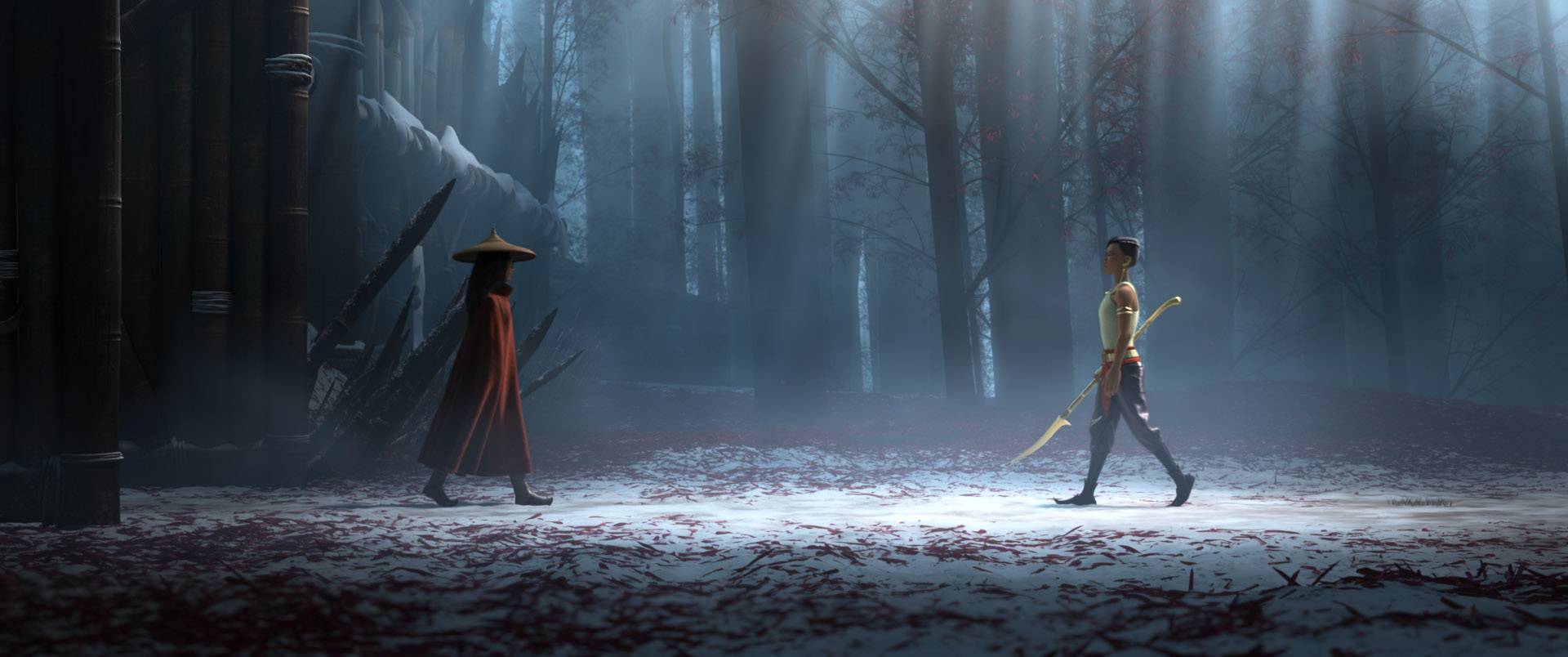 Though they haven't always captured these cultures in the most authentic or respectful way in the past, it's always a joy to see Disney bring to life another part of the world in their world-class animation. The world of Raya takes place in a fantastical land inspired by Southeast Asia, and I would place a hefty bet that the animators took inspiration just as much from a certain popular Nickelodeon cartoon as they did from the actual folklore of Thailand or the Philippines.
That said, any comparisons between this film and Avatar: The Last Airbender are mostly surface level, as the animation and artistic quality of Raya are undeniably those of Disney. This is a richly detailed and gorgeously vivid world they've crafted, from the macro concepts like the environments shaped to resemble the anatomy of a dragon, to tiny little moments like Raya using her snake-like sword like a grappling hook (eat your heart out, Ivy Valentine). It's simply a beautifully realised film from start to finish whether engaging in thrillingly choreographed fight sequences or quiet moments of reflection in the rain, and I wish more audiences could safely experience it on the big screen; do yourself a favour and try to see it on the best TV you can if you're watching at home.
Raya and the Last Dragon certainly isn't an instant classic, but it's more than worthy of the Disney legacy and takes the studio to bold new places. It has some structural issues that lead to some unfortunately cramped storytelling, but on the grand scale those hiccups never threaten what is otherwise a remarkable feat of animation. It stands as a film that reflects the progress and challenges of the time it was made in, but also respects that heritage of stories that came before it whilst remaining timeless for future generations. Whether they've known it or not, young audiences have needed and been craving for a hero like Raya for a long time, who now takes a distinguished place in the dynasty of Disney princesses. Much like how the first Disney renaissance broke away from paying homage to the classics and moved into more experimental territory in its second half, Raya and the Last Dragon could represent that shift for this generation. Hopefully, that means we've managed to skip over whatever the 21st century equivalent of Pocahontas is. *shudder*
FINAL VERDICT: 8.5/10